DCEU fans are still wondering what are the circumstances that led Doug Liman, director of The Bourne Identity to leave the long awaited Justice League: Dark film.
The one person not asking is the director himself, who is keeping busy with a slew of new projects. The Edge of Tomorrow director has the military thriller The Wall opening later this year as well as the Tom Cruise action drama American Made opening this fall. He is also attached to direct the Sci-Fi thriller Chaos Walking starring Daisy Ridley (Star Wars: The Last Jedi) and Tom Holland (Spider-man: Homecoming).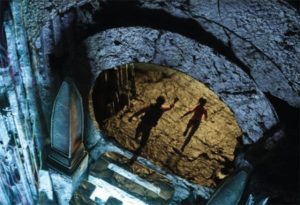 Liman is also scheduled to helm the feature film adaptation of the young adult novel Unearthed from authors Aime Kaufman and Meagan Spooner. Unearthed tells the story of a scavenger and scientist who team up to explore the planet of a long extinct alien species. The pair must explore an alien temple in an attempt to find a means to reverse an environmental disaster ravaging the planet. As they dig deeper into the mysteries of the temple, the more they discover that they might be hastening the planets destruction.
The book is set to be released January 2018. No release date has been given for the film version.
@superpoweredfan on Twitter