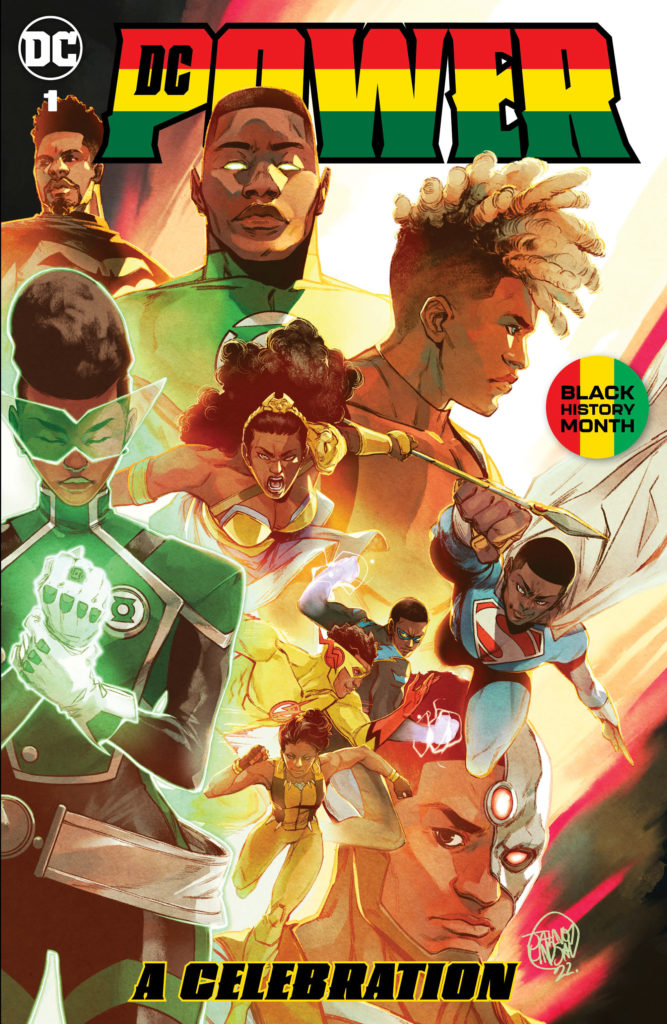 DC Power: A Celebration #1
DC Comics
Written by Evan Narcisse, Lamont Magee, Stephanie Williams, Brandon Thomas, Dorada Quick, Jordan Clark, Morgan Hampton, Chuck Brown, John Ridley and N.K. Jemison
Art by Darryl Banks, Chriscross, Alitha Martinez, Natacha Bustos, Clayton Henry, Valentine De Landro, Petterson Oliveira, Olivier Coipel and Jamal Campbell
Inks by Juan Castro and Mark Morales
Colors by Hi-Fi, Wil Quintana, Alex Guimaraes, Marcelo Maiolo, Marissa Louise and DJ Chavis
Letters by Andworld Design and Deron Bennett
The Rundown: Multiple stories celebrate the black heroes of the DC universe.
Black Paradise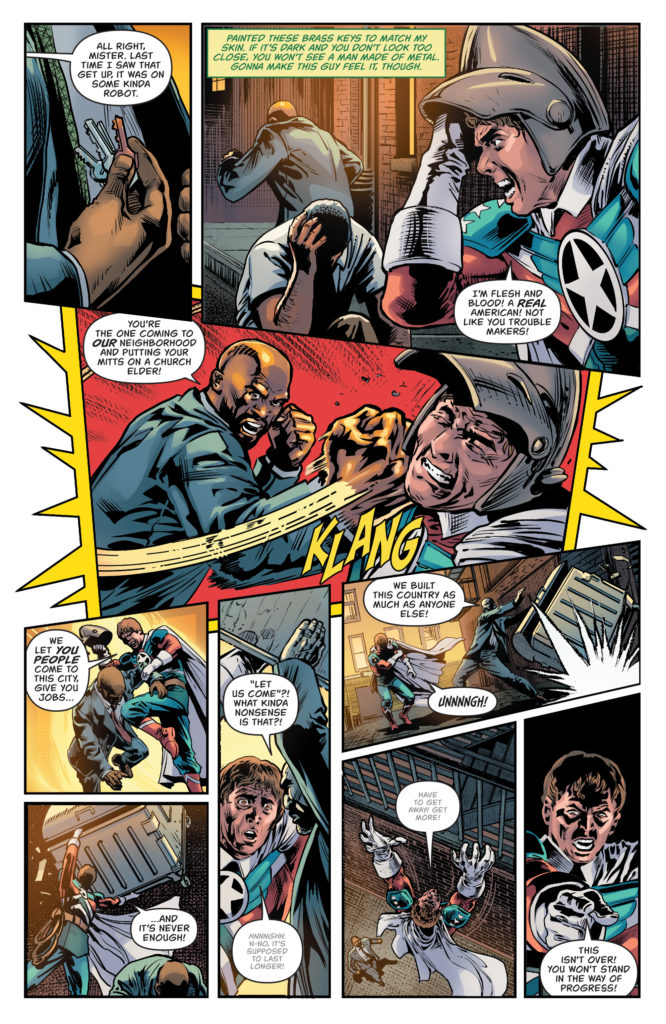 In the aftermath of Amazing Man fighting alongside the All-Star Squadron in the war, the war at home takes a new form. Driving a cab in Detroit, Will Everett finds himself facing off against a villain that he thought long gone who is targeting the black community. Using his powers, he finds out who's responsible, but even fighting a real villain can't stop what's coming to the place he calls home.
A powerful and thought provoking story of resilience that highlights an all too real problem. The story evokes a lot of emotion and contains some great art.
Separate But Equal
Jefferson Pierce is in Alabama to meet with a local school board who wants to separate children with metahuman abilities from other children. As Jefferson pleads his case, the meeting is attacked by two metahumans who want control. Jefferson suits up as Black Lightning to take them on and some backup help will show that these metahumans are not what they appear to be.
A great short story with not only awesome action, but a great message.
The Queen, The Bee & The Symphony
Nubia is in New York to find something to wear to a symphony alongside Karen aka Bumblebee. As they go to visit Mal while he rehearses, he and the rest of the performers are kidnapped by Monsieur Mallah who is trying to so something special for Brain. Nubia and Bumblebee suit up to stop the villain and rescue the performers.
A nice short story that has some entertaining moments. It should have been longer to allow for more development between the characters and the conflict.
Keeping the Peace
John Stewart is on an alien planet mediating a conflict between the two. Using his past memories of being bullied as a kid and what he learned from them, he finds a way to bring them to the table. Unfortunately, an attack from a third party could either derail negotiations or bring the sides together against a common enemy.
An entertaining story that does a great job of expanding the character of John Stewart as well as showcase what a great strategist he is.
Own Your Name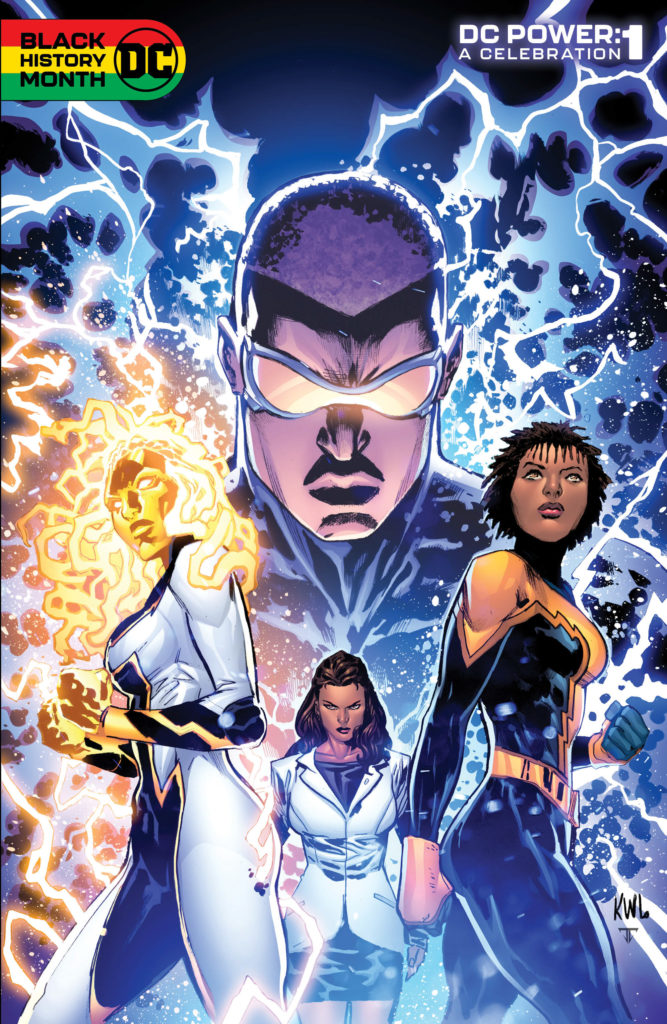 Wallace West is dedicating a youth center in the city and doubting his place as both a hero and a Flash when he is attacked by a mystery opponent who uses his doubts and fears as a way to get him to lash out and when Jackson arrives, he becomes the perfect target. Both former Titans fight it out with Jackson trying to get Wallace to realize he is worthy of being a Flash even if the world doubts it.
An engaging short with a great message for those who follow these characters. There are some great inspirational moments in the short along with some great art.
Booyah!
Cyborg is delivering a powerful device to Star Labs when he is ambushed by Livewire who wants that power to sustain her. Using the memory of his mother and the lessons she taught him, Victor Stone embraces the hero he is as he takes on Livewire to recover what he lost.
An entertaining short that serves as a great introduction to the character as well as his internal conflicts.
Vixen & Batwing
Mari McCabe and Luke Fox are on a stakeout to protect an African king when Black Manta and his forces arrive to kill him as part of a contract. As the two suit up to take on Manta's forces, they have to deal with not only possible death, but their budding relationship.
A great short that is both fun and entertaining for fans of both characters. I love the banter between the two characters and how playful it is.
The Cavalry
Jace Fox is captured by a gang threatening to kill a cop and when they discover that this Batman is black, they decide to kill him quickly. When his backup arrives, the duo proceed to take down the racist gang as Jace embraces the hero he has become and the choices he's making as Batman.
An entertaining story whose politics are less than subtle. The premise is entertaining and the art looks great.
Far Sector Preview
Sojourner Mullein has dealt with a lot in her life and managed to overcome everything by facing her fear. Facing her fear and an event that makes her question her career as a police officer will put her in the position of being recruited for a new position as the Green Lantern of an unknown sector of space.
A reprint of Jemison's story from the first issue of the series, the short does a great job of showcasing the character and her history. It also beautifully showcases the art of Jamal Campbell.