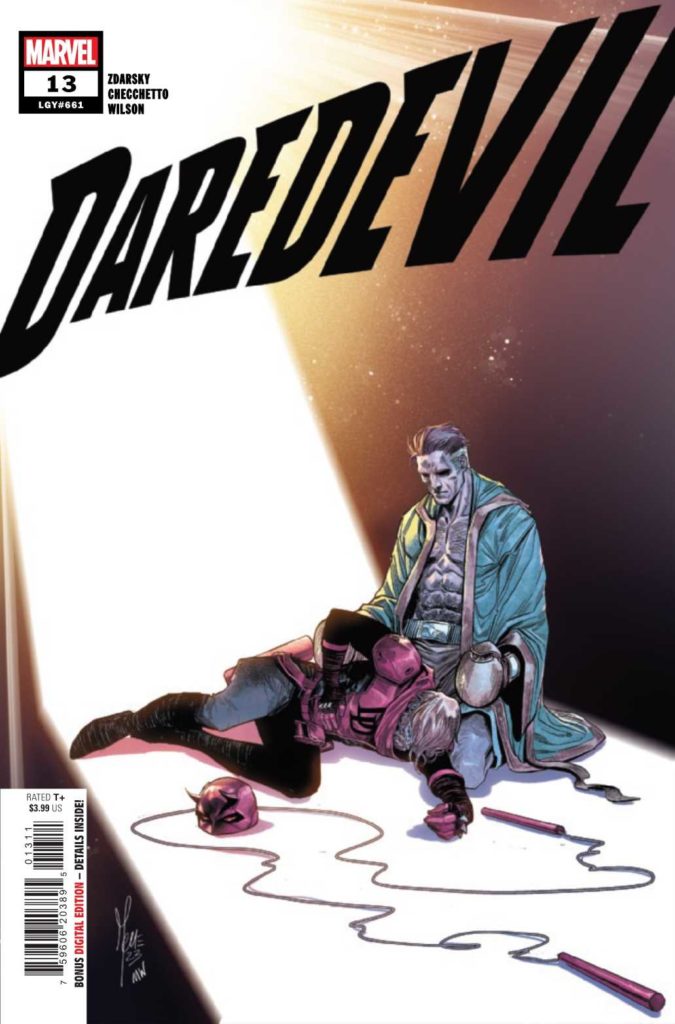 Daredevil #13
Marvel Comics
Written by Chip Zdarsky
Art by Marco Checchetto
Colors by Matthew Wilson
Letters by Clayton Cowles
The Rundown: Matt Murdock travels through hell to confront the Beast and learns a bitter truth.
Matt's journey through the realm of the Beast is filled with moments from his past that he regrets. Moments that he recognizes to be illusions to shatter his soul. As he makes a leap of faith, he uses his senses to discover that his friends' souls are still intact and he can free them. Unfortunately, the Beast is waiting for him along with the truth about the Fist and who Matt has really been serving.
Determined to free the people he loves, Matt turns to the one thing neither demon has been able to take from him, his love. Infused with amazing power, Daredevil takes on Fist and the Beast in a final showdown that will have an unexpected and tragic ending.
The Story: Zdarsky brings all the drama, despair, pain, faith and determination within Matt Murdock to life in this issue. The story is one filled with amazing moments for the character as well as revelations that will shatter him to the core as he discovers what he has really been serving. There are moments of amazing narration for the character and anyone picking up Daredevil for the first time will learn about the character and why he is so unique among the Marvel heroes. I loved this issue and the buildup to an emotionally shattering climax.
The Art: Checchetto delivers beautifully detailed art that transports the reader into the dark and dangerous realm of the Beast. Matt is brought to brilliant life in this issue and the action is a visual thrill.