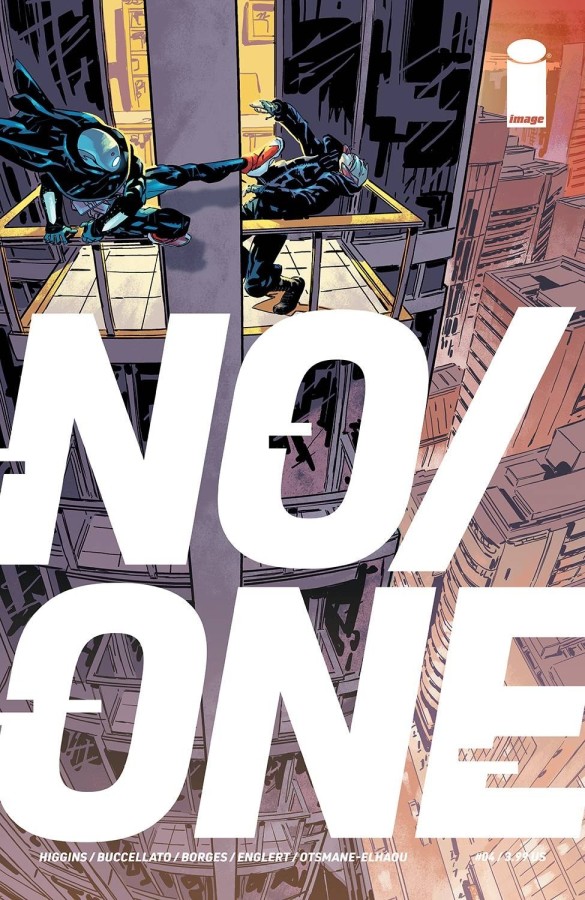 NO/ONE #4
Image Comics
Written by Kyle Higgins and Brian Buccellato
Art by Geraldo Borges
Colors by Mark Englert
Letters by Hassan Otsmane-Elhaou
The Rundown: Julia deals with a personal matter while Kern's investigation heats up.
Kern has continued his investigation after his retirement and manages to find a lead that knows more about the motive for one of the victims than he's letting on. At the same time, a piece of mail sent to Aaron inside provides the name of the next victim.
Julia finds her investigation hampered by the negative attention her media savvy mother is putting on it and when the police discover the name of the next victim, they race to the scene. Unfortunately, they are too late as NO/ONE arrives too late to stop the murder and fights with the real killer.
The Story: The mystery continues to be compelling and the scope of it continues to grow in this issue. Higgins and Buccellato are crafting an engaging story and every twist and turn of the plot is entertaining. I loved the action in the story and the rising tension of discovery within it. With every issue I want to know more about this world, these characters and what exactly NO/ONE is after.
The Art: Borges brings some great details to the art within the issue. The visuals are beautifully done and give a great sense of tension and drama from both the action and the interpersonal conflicts.