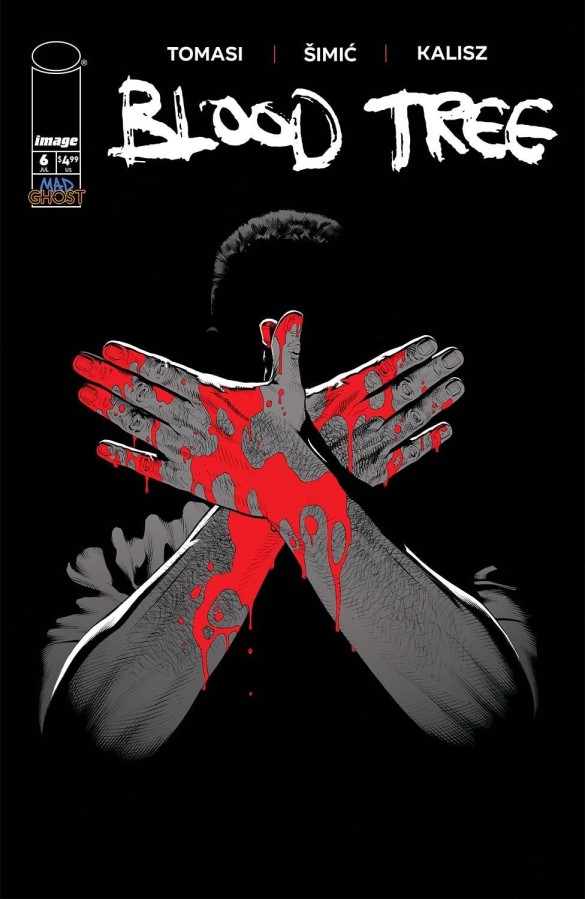 Blood Tree #6
Image Comics
Written by Peter J. Tomasi
Art by Maxim Simic
Colors by John Kalisz
Letters by Rob Leigh
The Rundown: Azzaro confronts a tragic loss and prepares for the final showdown with the angel killer.
Azzaro arrives at the safe house too late to save his partner who tells him that she wounded the killer before he shot her. In the wake of her funeral, Azzaro returns to the killer's apartment to look for more clues. After discovering a treasure trove of information in one of the walls, Azzaro goes looking for his prey.
After seeing the man return to his base, Azzaro moves in and the pair have an explosive shootout that will determine who lives and who dies.
The Story: Tomasi brings this story to a heart pounding, explosive and exciting conclusion. The conflict between the characters was great and I loved every tense moment of the story. The story does great by its premise and every moment of triumph and tragedy was earned by the characters. The story has a great theatrical feel and I could see it as a live action series some time down the road.
The Art: Simic delivers some fantastic imagery throughout the issue. The visuals are amazing and filled with thrills.