Captain America: Sentinel of Liberty #12
Marvel Comics
Written by Collin Kelly and Jackson Lanzing
Art by Alina Erofeeva
Colors by Nolan Woddard
Letters by Joe Caramagna
The Rundown: Steve and his team prepare to confront both Dimension Z and Bucky to rescue Cap's son.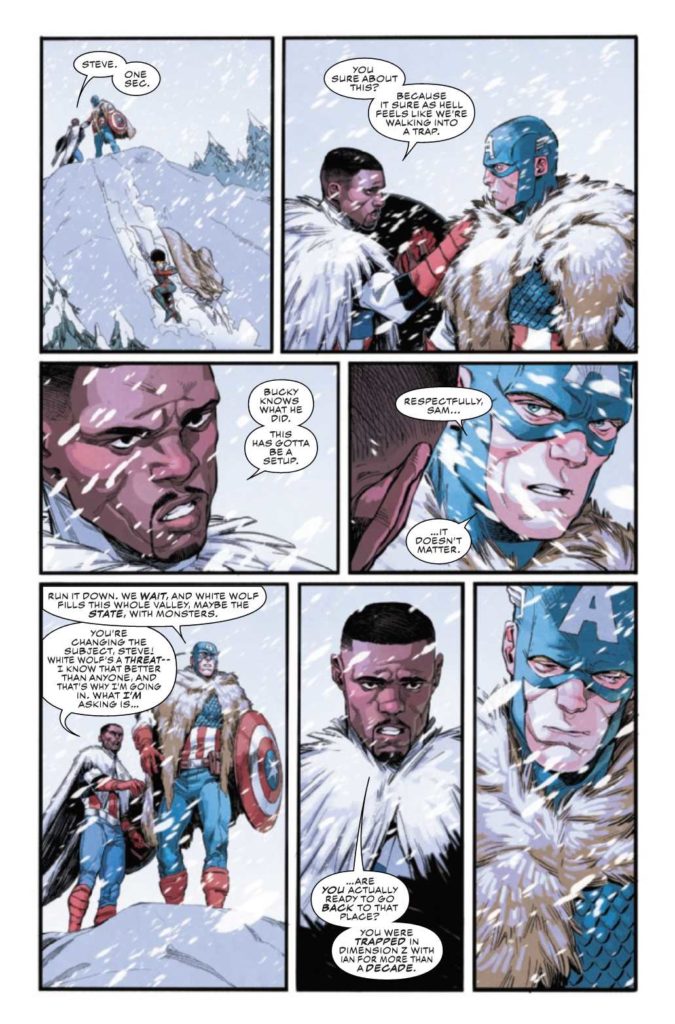 Steve Rogers, Sam Wilson, Misty Knight and Sharon Carter are preparing for battle. With monsters from Dimension Z overrunning a group of militia men on the ground, Steve and the others look for a way past them in order to rescue Ian from Bucky and the White Wolf.
At the same time, Bucky receives an unexpected visit from Natasha Romanoff who leaves him with a harsh lesson while the rest of the Outer Circle finds their game in jeopardy and make plans to end Bucky's role in playing it.
The Story: Kelly and Lanzing deliver powerful, adventure and intrigue throughout the issue. From Sam's wariness of Steve's actions to Natasha's confrontation with Bucky, the story has some great heightened drama within it that is engaging. The arc is definitely pushing Steve to some dark places and I enjoyed seeing how Bucky's presence is affecting the Outer Circle. I look forward to the next part of this story.
The Art: Erofeeva delivers some beautifully detailed, stylish and exciting art throughout the issue. The visuals do a wonderful job of enhancing the action of the story as well as the emotions of the characters.