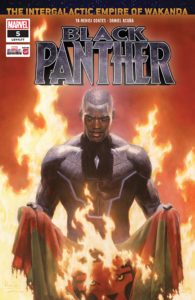 Black Panther #5
Marvel Comics
Written by Ta-Nehisi Coates
Art by Daniel Acuna
Letters by Joe Sabino
Nakia and everyone else continues to mourn the loss of their leader and the new leader of the resistance M'Baku has moved the survivors to a barren ice world in order for them to regroup. T'Challa is dealing with the loss in his own way and his recklessness if worrying everyone, especially Nakia. She decides that it is time for him to learn the truth about who he is and what his purpose is.
Stripped away of the action, this issue is a very good story that moves the human drama and character evolution along in a way that both keeps the story interesting, but also signals that there is something bigger coming in the next issue. Coates does a great job of giving Nakia real purchase in her dealings with T'Challa and that dynamic worked for me as a reader. Taking the romanticism out of the equation allowed Nakia to speak the truth to him and give him the information that he needed to make his own decision.
Acuna's art is always great and I liked the fact that story gave him the ability to concentrate on the human drama through the rendering of the characters. There are some great facial expressions and emotion in the scenes between T'Challa and Nakia and that comes across effectively because of Acuna's art.