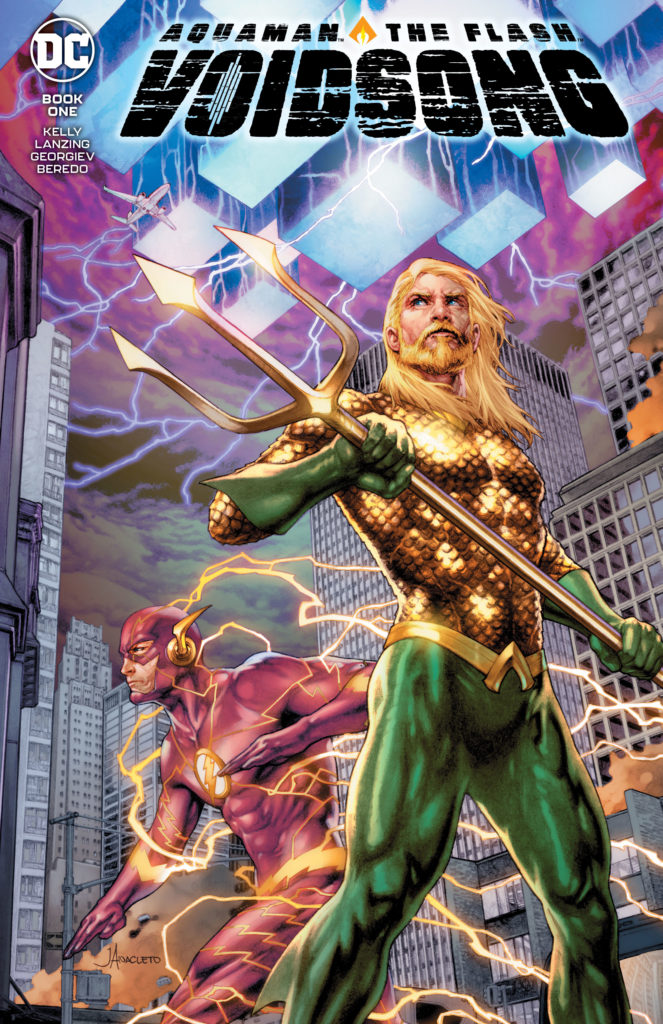 Aquaman and The Flash Voidsong #1
DC Comics
Written by Collin Kelly and Jackson Lanzing
Art by Vasco Georgiev
Colors by Rain Beredo
Letters by Troy Peteri
The Rundown: An alien invasion brings two heroes together for an unlikely team up.
Barry Allen might be the fastest man alive, but even after dealing with his rogue's gallery and saving his wife, he can be slow to understand what really matters to Iris. At the same time, Arthur Curry is challenged on his priorities by Mera when he decides to go after Black Manta instead of staying in Atlantis and being its king. When Barry enters the speed force and Aquaman is forced into the deepest trench on Earth, they emerge moments later to something they cannot explain.
Everyone on the planet is frozen and humming an unknown song as a fleet of ships surround the world. Flash and Aquaman are forced to team up to investigate what happened as they clash over what to do next. Their first stop at the Watchtower showcases the length of the problem and how alone they are in facing it.
The Story: Kelly and Lanzing craft an entertaining and intriguing story with two characters that do not have a history of one on one tales. It's interesting to team these two up and the story does a great job of showcasing their interpersonal similarities while showing their personal conflict. It's a fun story with some great dialogue and conflict. I love how these two clash with each other and I cannot wait to see how the story evolves.
The Art: Vasco Georgiev brings an intense and beautifully detailed style to the story and its characters. The style is perfect for the kinetic energy of the story and I look forward to see more.