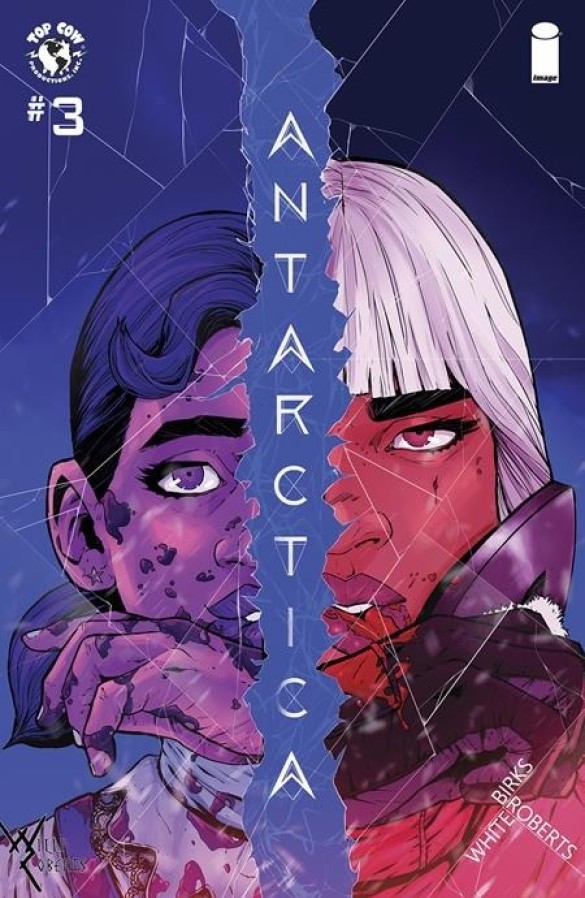 Antarctica #3
Image Comics
Written by Simon Birks
Art by Willi Roberts
Colors by Willi Roberts
Letters by Lyndon White
The Rundown: Hannah and her colleagues are forced to infiltrate the enemy base to get help.
With one of their own gravely injured, Hannah and the others have to find a way to infiltrate her doubles base in order to get him help. A dangerous proposition considering they have no idea where they are. As they make their way to the base, Hannah learns more about her own base and the mission she finds herself in the middle of.
At the same time, her double continues to track and hunt them. Knowing they only have one place to go for safety, she waits. When Hannah and her group reach the base, she will discover someone there that could change everything.
The Story: Things are getting more intense and suspenseful in this issue. Birks does a great job of ramping up the drama and tension throughout the issue. There are moments of intense danger for Hannah and her allies as they try to infiltrate the base and the story takes an interesting and compelling turn with the reveal towards the end of the issue. There is a consistently interesting and compelling mystery in this series and I can't wait to see where it goes next.
The Art: Roberts delivers fantastic art in the issue. The visuals are brilliantly detailed and give a great sense of the remote and mysterious environment the characters are trapped in.