A Town Called Terror #6
Image Comics
Written by Steve Niles
Art by Szymon Kudranski
Colors by Szymon Kudranski
Letters by Marshall Dillon
The Rundown: Henry confronts his father while his wife discovers more about the town of Terror.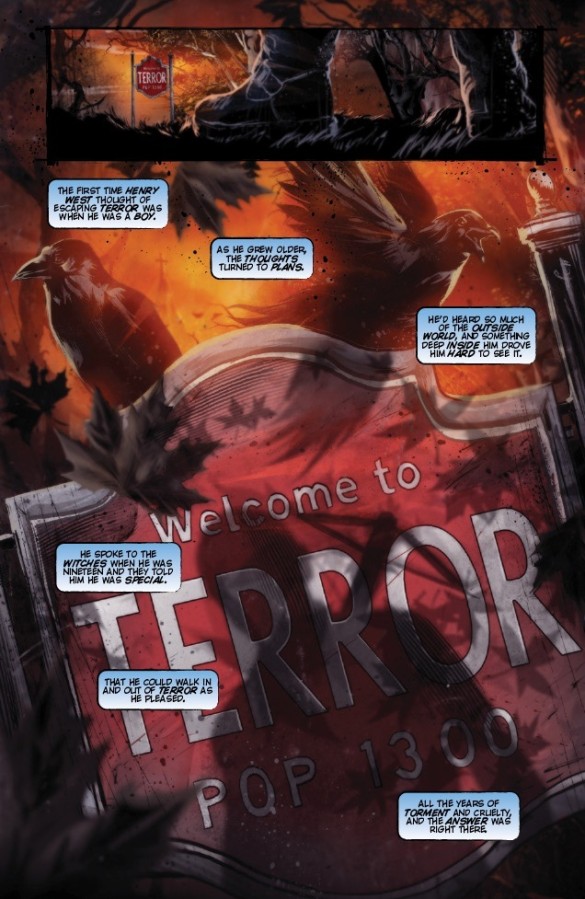 In the wake of his escape from a shadow dimension, Henry confronts his father who tried to trap him there. With his siblings watching and his mother encouraging him, Henry takes on his powerful and evil father. With his father's inability to die, things get more intense and difficult in the fight forcing Henry to use power he didn't know he had.
At the same time, Henry's wife finds herself in the hands of the local sheriff who does not want her there as a prisoner. After attacking her, she receives an unexpected rescue from some one connected to both her husband and the family drama he came home to.
The Story: Niles fills this issue with some exciting action, thrills and tension. The conflict between Henry and his father has great tension and an entertaining resolution. The moments with Henry's wife are filled with great tension as well and I really enjoyed the resolution of it and the introduction of a new character I want to know more about.
The Art: Kudranski delivers some incredibly beautiful and thrilling art throughout the issue. The fight scenes are thrilling and the characters look great. I continue to love the use of shadow in the book and how it emphasizes both character and emotion.