X-Men #19
Marvel Comics
Written by Gerry Duggan
Art by Stefano Caselli
Colors by Federico Blee
Letters by Clayton Cowles
The Rundown: While Forge and Monet attempt to solve an intergalactic mystery, the rest of the X-Men take on the Brood.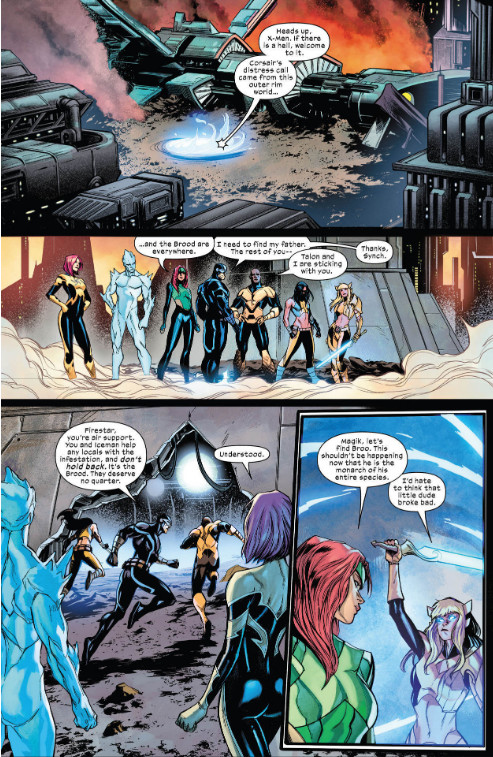 Forge and Monet bring a pair of colleagues to a gate on Krakoa to tell them that there is another one on Knowhere that was placed before it fell into a black hole. The pair decide that they want to investigate and their journey is filled with strange sights including what they discover when they come out on the other side.
At the same time, Cyclops and the other X-Men travel to a planet being overrun by the Brood and discover the crashed Starjammers ship and Scott's father on board. As Scott and the others fight off the Brood, Synch and Talon attempt to remove the Brood growing within Corsair.
The Story: An entertaining story with a thought provoking set of mysteries at its heart. Duggan does a great job of making both the Brood mystery and Forge's trip to Knowhere equally compelling. I love the mixture of action and horror movie elements throughout the story and how the characters interact with each other. I love the Forge and Monet story and look forward to seeing happens next.
The Art: Caselli delivers some great art in the issue. The action is visually exciting and intense and the horror imagery is great.