Wolverine #8
Marvel Comics
Written by Benjamin Percy
Art by Adam Kubert and Viktor Bogdanovic
Colors by Antonio Fabela and Matthew Wilson
Letters by Cory Petit
The Rundown: Two old soldiers swap stories in a bid to fight off the madness.
The Story: Logan stops to pay a visit to a recent friend who can tell that Wolverine has something he needs to get off his chest. The two old soldiers begin to tell stories about their careers in the military and moments when their decisions to follow orders led to scenarios where they ended up on the wrong side of a conflict that led to the deaths of innocents. Bannister reveals this incident is why he has been working within the CIA to make sure things like that don't happen again.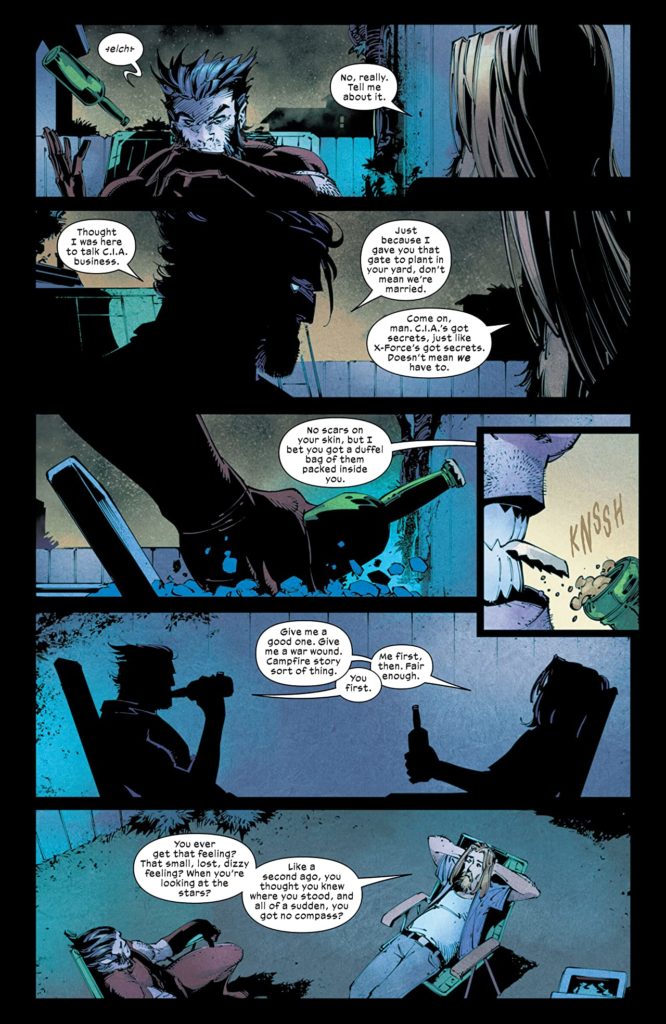 Logan recalls a mission from his Team X days that led to the destruction of an asset and the deaths of multiple men. As the two men contemplate why they continue to fight and whether they will find peace, they are unaware that they are being watched by someone with an agenda closely tied to the governments plans for the mutant nation.
The Story: Benjamin Percy does a good job of bringing Logan out of the bigger conflicts setup in the series and letting him contemplate his life, his choices and his mission. It was gratifying to see him connect with Bannister on a human level as the two have some great chemistry together as characters and kindred spirits. I like to flashback elements a lot and how both men have similar mindsets to their definitions of duty. A really well done story.
The Art: Bogdanovic and Kubert deliver some beautiful art in this issue. While the story is subdued, the art does a great job of contrasting between the big action of the flashbacks and the quiet of the present.