White Savior #4
Dark Horse Comics
Written by Eric Nguyen and Scott Burman
Art by Eric Nguyen
Colors by Iwan Joko Triyono
Letters by Micah Myers
The Rundown: Todd and his friends employ some unusual tactics to save the village and get themselves home.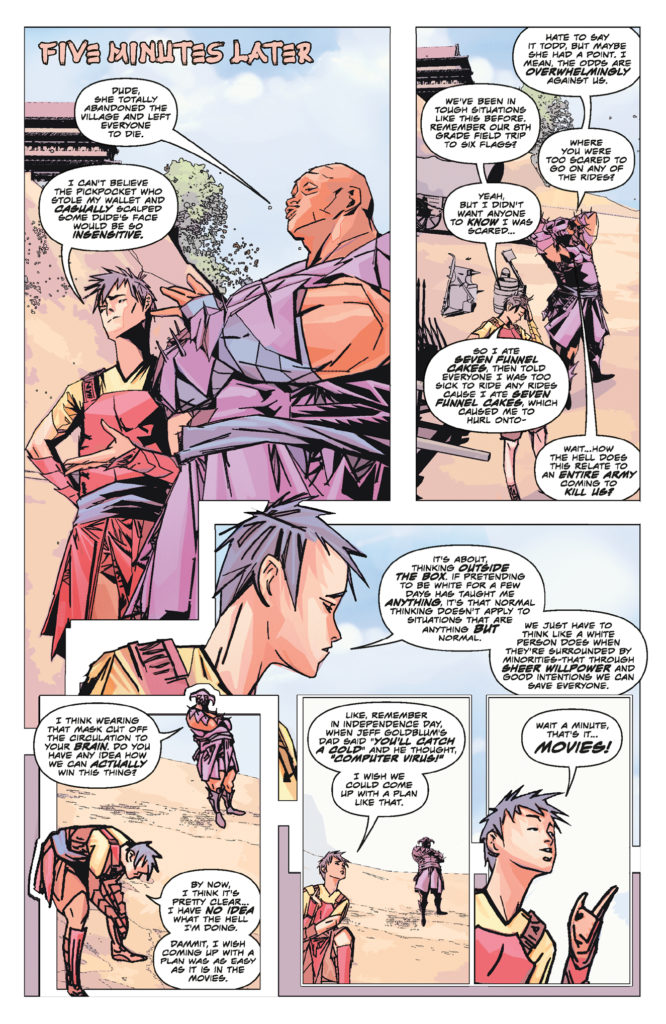 Todd and his friends are running out of time and options as the village prepares to be invaded. With Todd still pretending to be the white savior, he decides that there might be another way for them to win. A way any kid from the present would utilize, movies.
As the battle commences, the villagers hold their own and look like they are about to win when an unexpected revelation threatens to turn the battle the other way. Todd will have to think fast if he has any chance of surviving. Thankfully, he gets some last minute help from an unexpected source.
The Story: Nguyen and Burman brings this story to a hilariously epic conclusion filled with great humor, action and charm. The comedy works on multiple levels and the action is thrilling throughout. I love playing around with the genre clichés in the story and the level of self awareness from both the narration and the characters is endearing and very funny. This is a fun world and I would love to see it explored again.
The Art: Nguyen delivers some beautifully detailed, fun and thrilling art throughout the issue. The visual style of the story is perfect for the tone of it and I was impressed with the visual scope of the story itself.