Little Monsters #12
Image Comics
Written by Jeff Lemire
Art by Dustin Nguyen
Colors by Dustin Nguyen
Letters by Steve Wands
The Rundown: Laura tries to stop her uncle from killing her new friends while Lucas tries to stop Billy from killing Laura.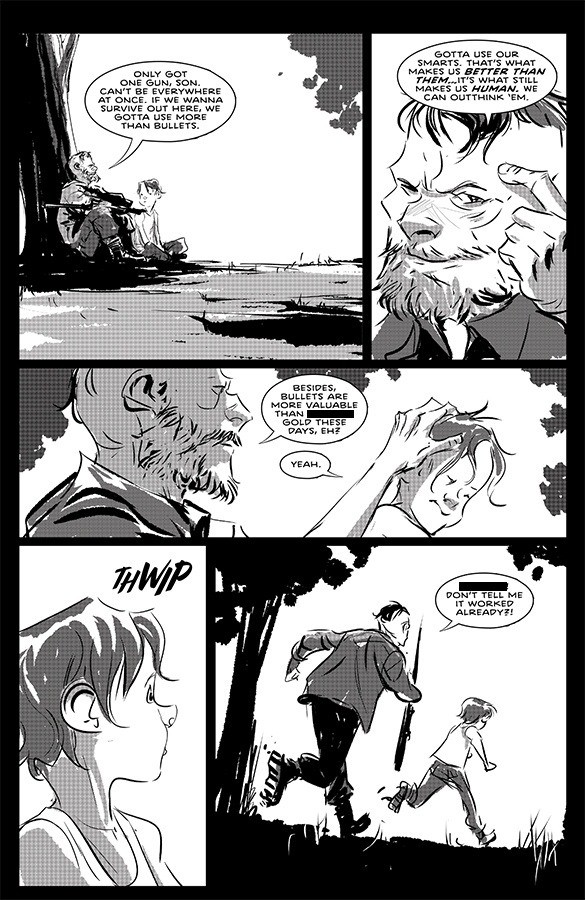 When Finnick was young and the world was starting to fall apart, his father taught him how to hunt and how to conserve his ammo. Skills he will use in the present as he prepares for the kids to come to rescue their friend. At the same time, Laura tries to tell them that they need to leave each other alone as Billy picks up their scent and begins the hunt with some of the others.
Unfortunately, Billy underestimates Finnick and some of his friends find out the hard way. Lucas tries to stop them and when he attempts to rescue Billy, he is attacked.
The Story: Lemire ramps up the action and intensity in this issue. The story is filled with great tension and takes some dark and unexpected turns that excited me as a reader. The pace is definitely picked up and I love how complicated all of the characters are both in their attitudes and their will to survive. The story builds to a devastating cliffhanger that makes me excited to see how Lemire brings the story home in its conclusion.
The Art: Nguyen delivers beautiful art on every page. The visuals perfectly complement the intense and fast paced tone of the story.