Victory #1
Dynamite Entertainment
Written by David Walker
Art by Brett Weldele
Colors by Brett Weldele
Letters by Taylor Esposito

The Rundown: Victory is chased by a group of demons who are after a powerful object in her possession.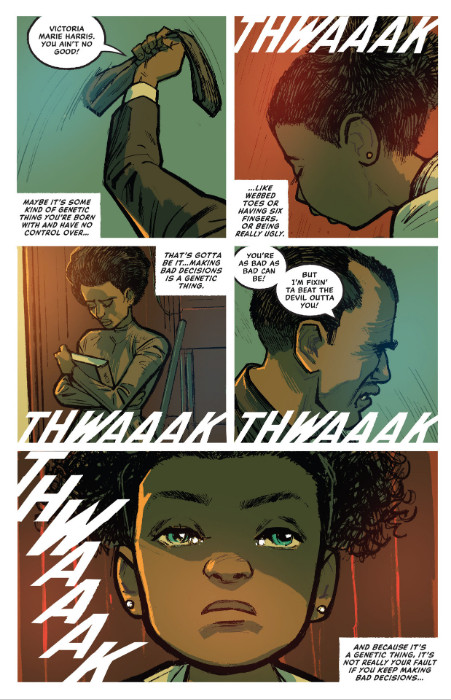 The issue opens with Victory recalling a particularly disturbing event from her youth. In the present, her job as a cab driver is interrupted when she is chased by a group of demons in search of a magical object. Soon two potential allies come to her aid. Afterwards, she considers a request for assistance.

The Story: As I newbie to the Vampirella universe, I must admit, I was a little confused by some of the story points. However, it did not hinder my enjoyment of the tale in any way. This introductory chapter does a good job of setting up the characters and giving an interesting, if heartbreaking tease of Victory's backstory. I think there is a lot to be said about how this series is already addressing issues such as Christianity and childhood sexual trauma and I appreciate the way it is handled. Overall, I think this new series is very promising and I look forward to finding out what happens next.

The Art: This issue features realistic drawings complimented by muted color work. The attention and care given to facial features make an emotional impact and will draw readers further into the more emotional beats of the story.