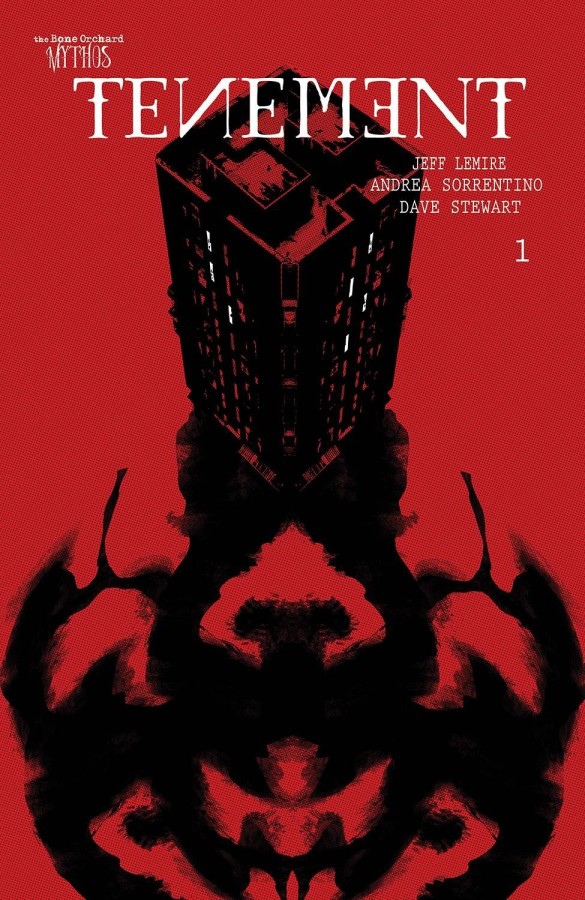 Bone Orchard: Tenement #1
Image Comics
Written by Jeff Lemire
Art by Andrea Sorrentino
Colors by Dave Stewart
Letters by Steve Wands
The Rundown: Seven strangers will find themselves pulled into a dark mystery.
Seven strangers dealing with life in the city all live in the same tenement building. When one of them begins to see strange things, their lives begin to change.
An older man named Felix befriends one his neighbors, a young boy named Isaac. As things get dark for some and stranger for others, Felix makes a decision. One that will bring the strangers together in a dark mystery while leaving something behind for young Isaac.
The Story: Lemire crafts a tonally beautiful and engaging story in this first issue and introduces the reader to a unique and eclectic group of individuals connected to something they can't even imagine. I love the slow build up in the story and how the characters not only intersect with each other, but also how their lives are causing internal drama that could play heavily into whatever events are to come in this series. This is a great ensemble story that wonderfully connects its characters with a setting that is filled with mystery and I cannot wait to see where it goes.
The Art: Sorrentino is a master at setting the tone and mood of a story visually. The art is brilliant detailed, dark and subdued in a way that forces you to check every shadow for something ominous while also marveling at the brilliant environments and characters.