Undiscovered Country #3
Image Comics
Written by Charles Soule and Scott Snyder
Art by Giuseppe Camuncoli and Daniele Orlandini
Colors by Matt Wilson
Letters by CRANK!
The Rundown: The expedition gets closer to its goal, but betrayal and an unexpected discovery will change everything about their mission.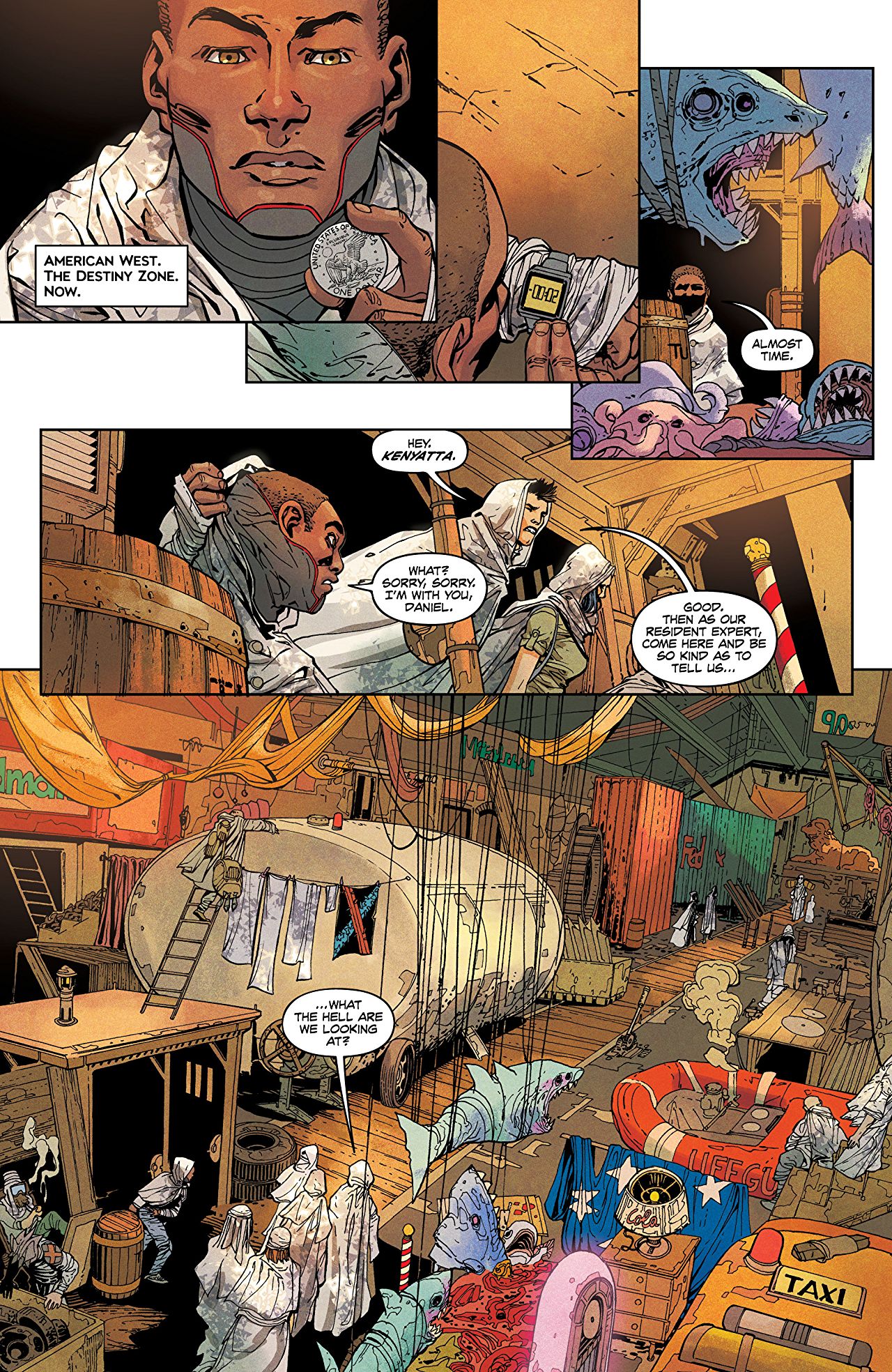 Dr. Kenyatta is the resident United States expert on the mission and his input has been invaluable to the team as they find themselves navigating this new American landscape. As they find themselves on the ground floor of Destiny Man's domain, they are going to need Kenyatta's experience to navigate their way up to the throne room.
Unfortunately, Kenyatta is distracted by another mission he is on.
Kenyatta is working on an experiment that he began outside the country. One that got him captured by a colleague and locked up with the promise of release in exchange for his place on the expedition. His experiment is more important than anyone realizes and it all has to do with the one thing they seem to be running out of; time.
At the same time, Lottie and Daniel make their way further up and discover the submarine Daniel used to try to break into the country before. When she confronts her brother about the information he's finally started to share, she begins to realize that this isn't his first time back in the states.
The Story: There is so much going on in this issue and everything is handled with care by Snyder and Soule. The story is unique and filled with awesome and interesting plot twists that challenge everything the reader has believed so far. I love the unpredictability of the narrative and how the story evolves in ways that I couldn't predict and contains a twist that I am hungry to see explored. This is a great issue that continues to build on this unique and engaging world as well as its cast of compelling characters.
The Art: Camuncoli and Orlandini take this world to new heights with the beautiful blend of the mundane facades of American culture and the strange and unique new world these characters inhabit. Each page has something different and brilliant to see.