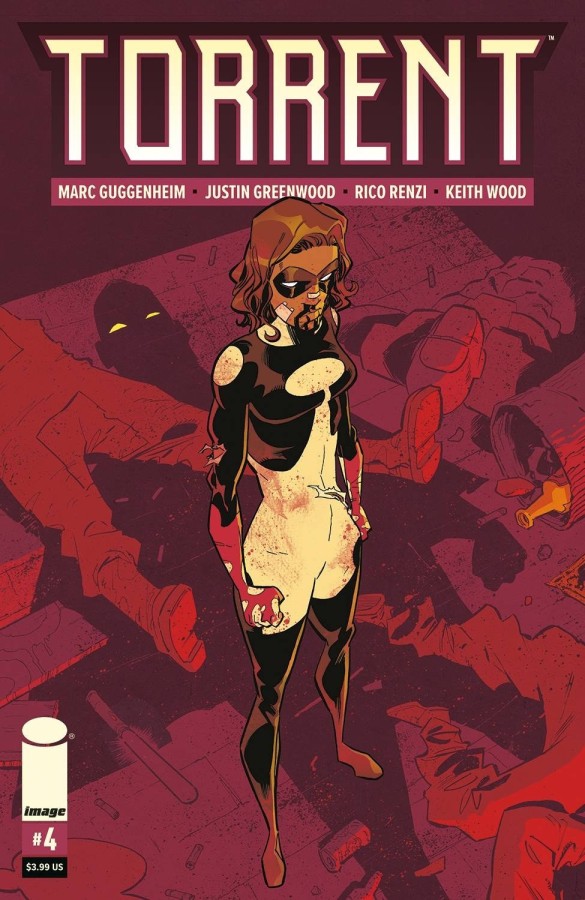 Torrent #4
Image Comics
Written by Marc Guggenheim
Art by Justin Greenwood
Colors by Rico Renzi
Letters by Keith Wood
The Rundown: Michelle's mission of revenge will bring her into conflict with some old friends.
Michelle's path of destruction of the men who destroyed her family brings her into direct confrontation with Captain Criterion who wants to stop her before she goes too far. Unfortunately, she has prepared for this occasion and the hero finds himself out of the game.
In the aftermath, the rest of her old team decides to come after her and she has to use everything she knows about them not only to stop them, but to survive. At the same time, an unexpected return will change everything about her mission.
The Story: Guggenheim continues to craft an entertaining and emotional revenge story in this series and I found it incredibly engaging. Michelle's arc continues to be compelling and everything that she faces makes the story more interesting and intriguing. There is great action throughout the issue and the story does an excellent job of raising the stakes for the character while surprising the reader with an unexpected return.
The Art: Greewood's art beautifully captures the gritty, dark tone of the story and the visuals are filled with great details. I love the art style and how it captures the mood of every scene.