The Hunger and the Dusk #1
IDW Publishing
Written by G. Willow Wilson
Art by Chris Wildgoose
Colors by Msassyk
Letters by Simon Bowland
The Rundown: An alliance between humans and orcs might be the only thing can save them both from destruction.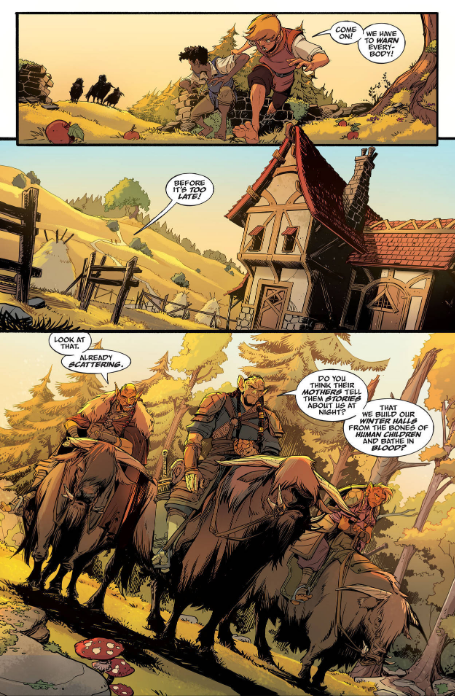 As the land around them continues to die, humans and orcs push past the boundaries of their lands to find new lands for their people. Unfortunately, it leads to conflict between the two. To make matters worse, now a third and more dangerous group has decided to kill everything and everyone.
With the threat of the Vangol rising, a detachment of Orcs have come to meet with the humans to find a way live peacefully and stand together. To do that, the Orc Lady Tara will join the human company led by Callum Battlechild but a Vangol attack might end the alliance before it begins.
The Story: G. Willow Wilson crafts an engaging first issue with equally engaging and interesting characters. The different factions of humans and Orcs are compelling and I like seeing the tension between the groups even as the bigger threat reveals itself. I enjoy the scope of the story and the world being created within it. The first issue has some great world building and I look forward to seeing how the story and the characters grow and evolve.
The Art: Wildgoose delivers some beautifully detailed and stylish art in the issue. I love the visuals a lot and the characters look fantastic. I love the style of the art as well and how it incorporates both character and action.