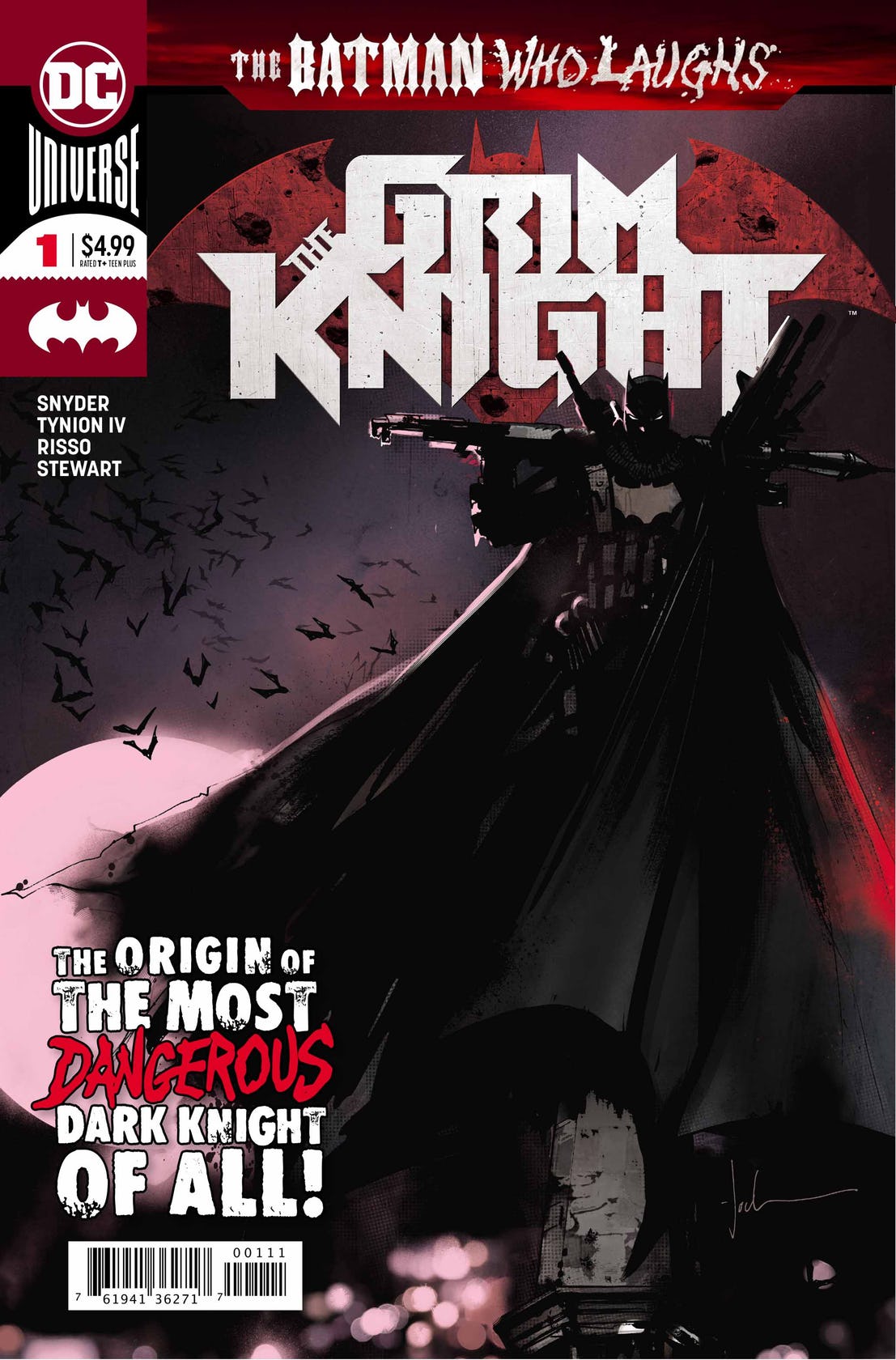 The Batman Who Laughs: The Grim Knight #1
DC Comics
Written by Scott Snyder and James Tynion IV
Art by Eduardo Risso
Colors by Dave Stewart
Letters by Sal Cipriano
The Grim Knight is transporting a bound and blind Jim Gordon through the sewers of Gotham. Not only is this trip personal in his hatred of Gordon himself, but it also serves as a trip down memory lane for this dark multiverse version of Bruce Wayne.
His story begins in tragedy like the rest, but on this world, Joe Chill drops his gun and young Bruce picks it up. Feeling the power of the weapon in his hands and swift justice it brings after he pulls the trigger, Bruce dedicates his life to making sure this never happens to another little boy. His journey takes him all over the world to train with the most hardened and hard core military strategists, assassins and soldiers of fortune all over the world and when he returns to Gotham, he begins his mission to wipe out crime in the city. He announces himself in a familiar scene with a brutal finale.
His exploits and lethal disposal of criminals earns him grudging respect from the police and the citizens, but there is one man on his world that stands opposed to his methods. One man who will do whatever it takes to bring down the Grim Knight and his murderous regime; Jim Gordon. His first attempt unsuccessful, Gordon returns with evidence and a plan to stop the threat of the Grim Knight for good.
In our world, the Grim Knight has different plans for this Gordon. Plans that will take him to the brink of the ultimate revenge. Plans that are interrupted by the Batman who Laughs because he has a plan that is even more insidious for both Gordon and the city.
Scott Snyder and James Tynion IV have crafted a grim, gritty and scary version of Batman with the Grim Knight. I was on the fence about this character when he was first introduced because I couldn't get past the "Batman with the gun" motif, but this story gives a vivid and interesting interpretation of the character. What makes him so scary is that he is still Bruce Wayne. One twist in circumstance turned a potential hero into a megalomaniacal monster with the same commitment to his mission as our Batman. It is a truly scary interpretation because it doesn't take a dramatic physical transformation like BWL to accomplish. It's more subtle which makes it more disturbing.
Eduardo Risso's art is dark and beautiful. The transitions between Bruce's past and his present are perfectly executed and the pace of the story is bolstered by the amazing art.