The Amazing Spider-Man #66
Marvel Comics
Written by Nick Spencer
Art by Mark Bagley
Inks by John Dell
Colors by Brian Reber
Letters by Joe Caramagna
The Rundown: In the aftermath of a personal betrayal, Spider-Man must prepare for what comes next.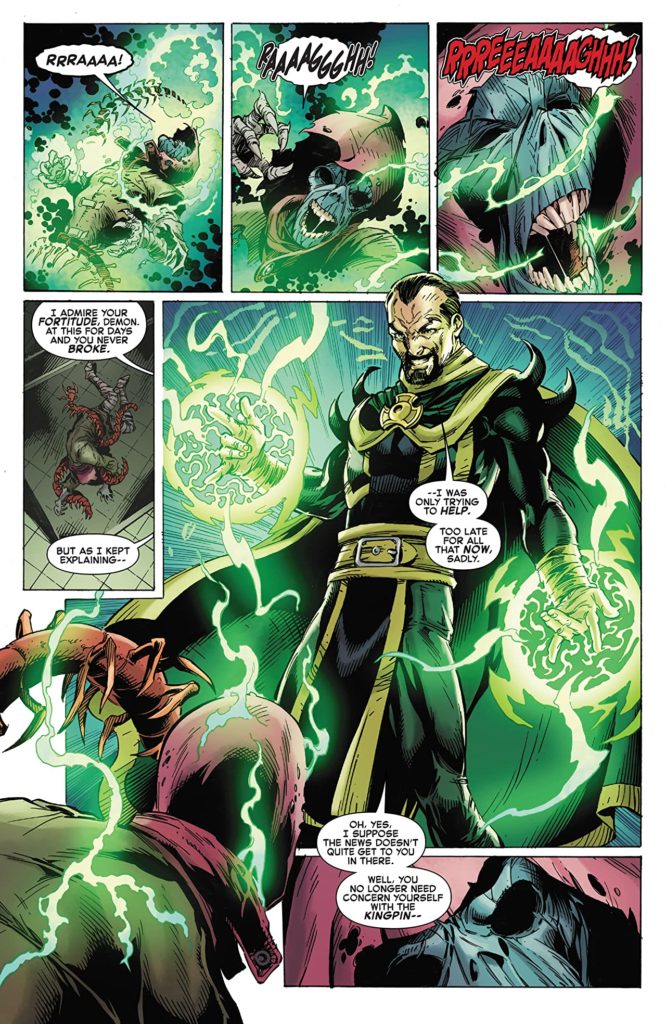 Mordo continues his torture of Kindred, but this time it's just for fun because Kingpin already has what he wanted; the resurrection of his son. As Mordo prepares to end the threat of Kindred, Osborn steps in to save the demon connected to his son. At the same time, Peter must come to terms with what is happening as he faces an unknown future. Unfortunately, he doesn't have time for self pity because his friends need answers and are waiting to come up with a plan.
The heroes decide that Fisk being mayor and everything he has let loose on the city is the big problem they are facing and decide to finally do something about it. Robbie reconciles with his son and both he and Tombstone come to an understanding, but only in regards to their kids. MJ finds herself dealing with some Spider-Man related issues in the form of Overdrive who needs to talk to her about someone they both know. Osborn discovers quickly that saving Kindred might not have been the best decision and Peter meets with an old friend who has some big news.
The Story: There is a lot of buildup in this issue and Spencer does a great job of weaving the threads together into an issue that might not have a lot of action, but is engaging in its story and characters. While many of the character arcs get a resolution, a lot is left on the table to complicate Peter's life and that makes me excited as a reader to see what's on the horizon. I was impressed with this issue and the tone its taking with its characters. Can't wait for what happens next.
The Art: Bagley has a brilliant eye for character and scope. There is an intimacy to this story and that comes through in the art with its use of close ups and two shots.