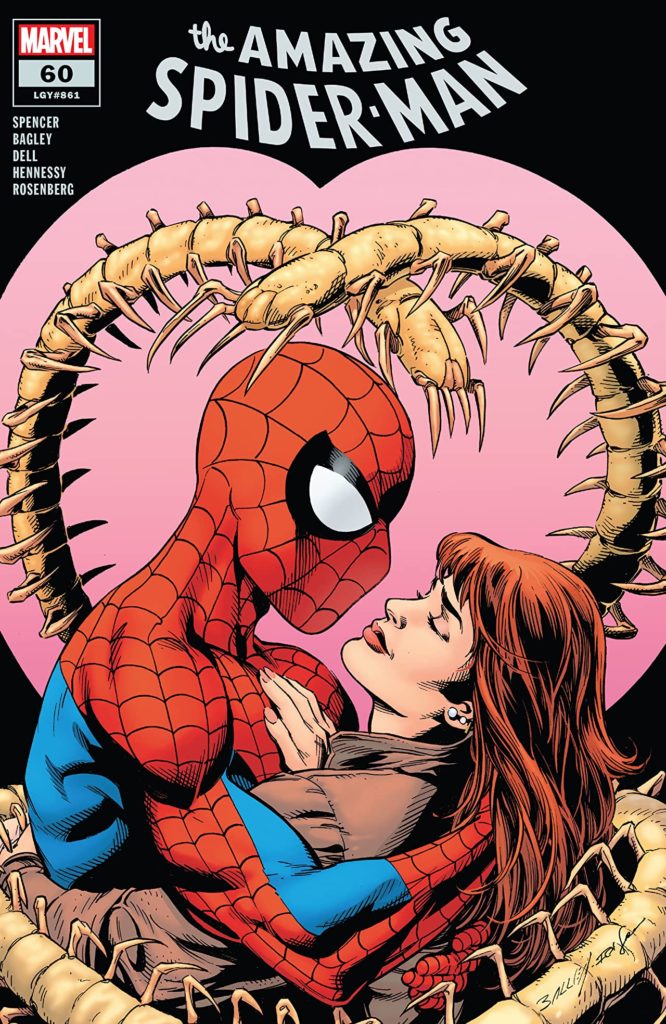 The Amazing Spider-Man #60
Marvel Comics
Written by Nick Spencer
Art by Mark Bagley
Inks by John Dell and Andrew Hennessy
Colors by Rachelle Rosenberg
Letters by Joe Caramagna
The Rundown: Peter decides to unburden himself as someone close to him hides a secret about Kindred.
Peter is still having nightmares about Harry Osborn aka Kindred and those nightmares prompt Mary Jane to take action. Using a technique she picked up after the death of Gwen Stacy, she takes Peter to the place where she got her big break and puts him center stage to work out the issues he has with Harry, Norman and the massive responsibility and guilt he continues to carry on his shoulders.
In the aftermath, Spider-Man is needed. After he leaves, MJ has a clandestine meeting with one of Peter's most cunning foes. At the same time, Doctor Strange has a meeting of his own. A meeting that has everything to do with Peter Parker's soul.
The Story: Spencer crafts a great emotional journey for Peter in this issue. There are moments of catharsis that are explored really well, but the best part of the issue is that Spencer doesn't leave the reader with a tidy ending for the character. There are still issues lingering in his life and the story does a great job of showcasing both the recent and longer gestating problems Peter is facing.
The Art: Bagley delivers some brilliant imagery throughout this issue. The characters look great and the character focus of the issue allows for the art to showcase character emotion.