The Amazing Spider-Man #13
Marvel Comics
Written by Zeb Wells
Art by John Romita Jr
Inks by Scott Hanna
Colors by Marcio Menyz
Letters by Joe Caramagna
The Rundown: Peter faces two Hobgoblins and Osborn has to make a dangerous choice.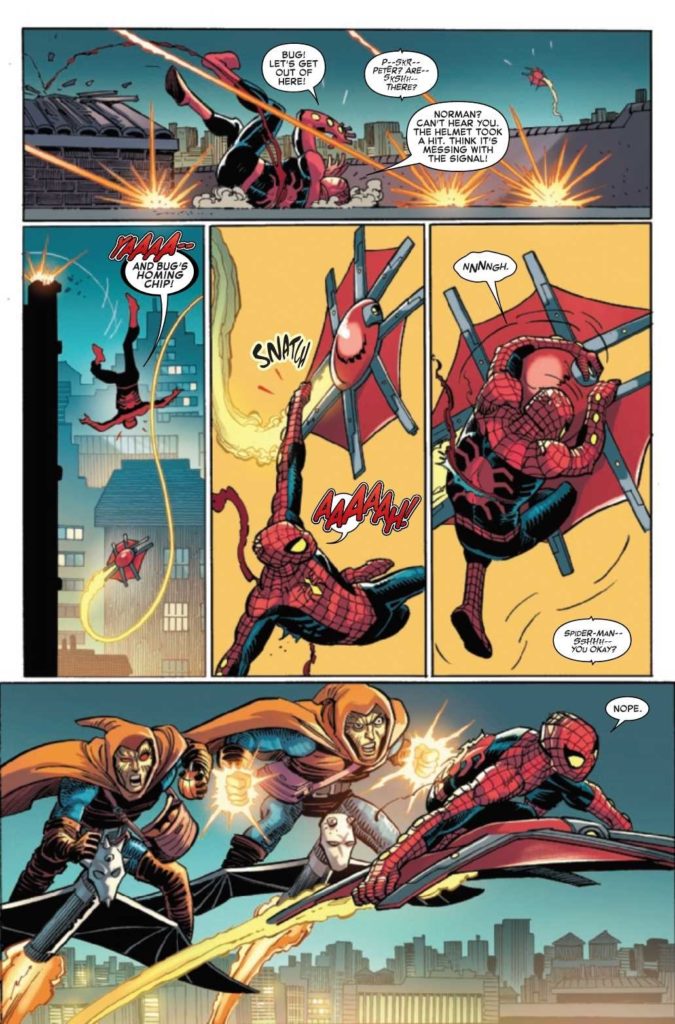 Peter's investigation reveals both Kingsley and Ned Leeds have returned to being the Hobgoblin and both are attacking him. As Peter tries to hold his own against two dangerous foes, Norman is watching from his hospital room. As he sees the fight getting more dangerous for Spider-Man, Norman has to make a decision.
With Peter fighting for his life, he still tries to appeal to Ned for the sake of his family. When Norman arrives in a new suit, the pair stop Ned, but Kingsley disappears. As Norman deals with the repercussions of returning to violence, Kingsley finds himself in the hands of a dark, familiar face.
The Story: Wells dives into the action in this issue with Spidey taking on two Hobgoblins alone and I really enjoyed both the thrilling suspense of the story and the conflict with Norman Osborn. The story has some great action and thrills throughout and everything comes to a fantastic climax with a reveal that has me excited to see what comes next.
The Art: John Romita Jr ramps up the actions with thrilling art that showcases the power of the character as well as the stakes of the fight.