Swan Songs #1
Image Comics
Written by W. Maxwell Prince
Art by Martin Simmonds
Colors by Martin Simmonds
Letters by Good Old Neon
The Rundown: As the world counts down to oblivion, Brian has a final task to perform for someone special.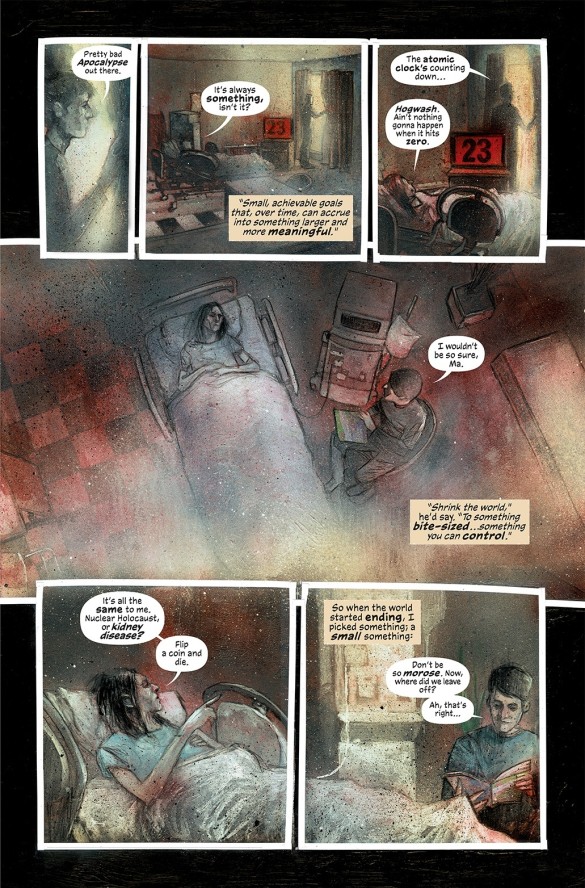 The world is ending closer to the end and society has already broken down. As the clock to destruction ticks down, Brian sits by his mother's hospital bed reading to her from her favorite magazine as she lies dying. When he tells her something that might bring her a little joy in the failing world, he becomes determined to show her.
Leaving the empty hospital and hitting the streets of a dying city, Brian encounters everything from people seeking any emotion they can find to addicts willing to kill for a final fix. Brian will move on determined to find something to make his mother's final moments, and his, memorable.
The Story: W. Maxwell Prince crafts an entertaining, often thrilling and thoroughly enjoyable experience with this issue. The world of the story is immersive, the characters interesting and the progression of the plot kept me engaged from the first panel. I love the nature of this series and if this first issue is any indication of what I can expect from the rest of the series, I will be on board for the next issue when it arrives.
The Art: Simmonds crafts some beautifully detailed and visually immersive art on every page of this issue. You feel a part of this world through the visuals and the final visual moments of the issue are beautifully bittersweet.