Star Wars The High Republic: The Blade #1
Marvel Comics
Written by Charles Soule
Art by Marco Castiello
Colors by Jim Charalampidis
Letters by Travis Lanham
The Rundown: Two Jedi travel to a distant planet to answer a call for help.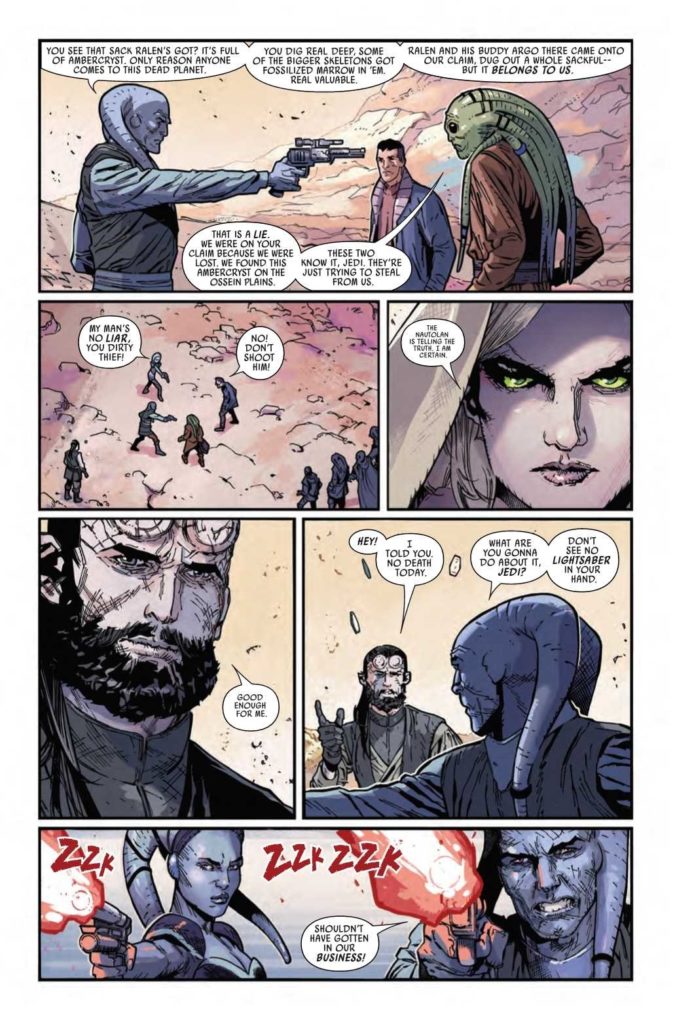 Beyond the core worlds of the Republic, a pair of Jedi Knights have been dispatched to help where they can. Jedi Porter Engle and Barash Silvain have completed their latest mission on the Boneworld but before they leave, Porter settles a dispute between some miners. After leaving the planet, they go looking for another adventure. An adventure that will take them to further than they've ever been.
The Jedi recalls the beginning of their friendship after they secure transport to their new mission. At the same time, Porter finds himself dealing with the reality of his own reputation as he is challenged to a duel by a fellow Jedi. As the pair prepare for their mission, they are unaware of what awaits them on the planet's surface.
The Story: Soule crafts an entertaining story that feels unique in the Star Wars universe. There is a wonderfully gritty quality to the story and its atmosphere and the characters are all engaging and interesting in their own right. I like getting to know these characters a lot and the relationship they have with each other. I am intrigued with how this story will progress.
The Art: Castiello delivers some gritty, beautifully detailed art on every page. I love the look of this issue and how it stands out from other Star Wars titles in its bold art approach.