Star Wars #33
Marvel Comics
Written by Charles Soule
Art by Madibek Musabekov
Colors by Rachelle Rosenberg
Letters by Clayton Cowles
The Rundown: Luke and the others fight to escape No Space while Luke deals with his connection to the Force.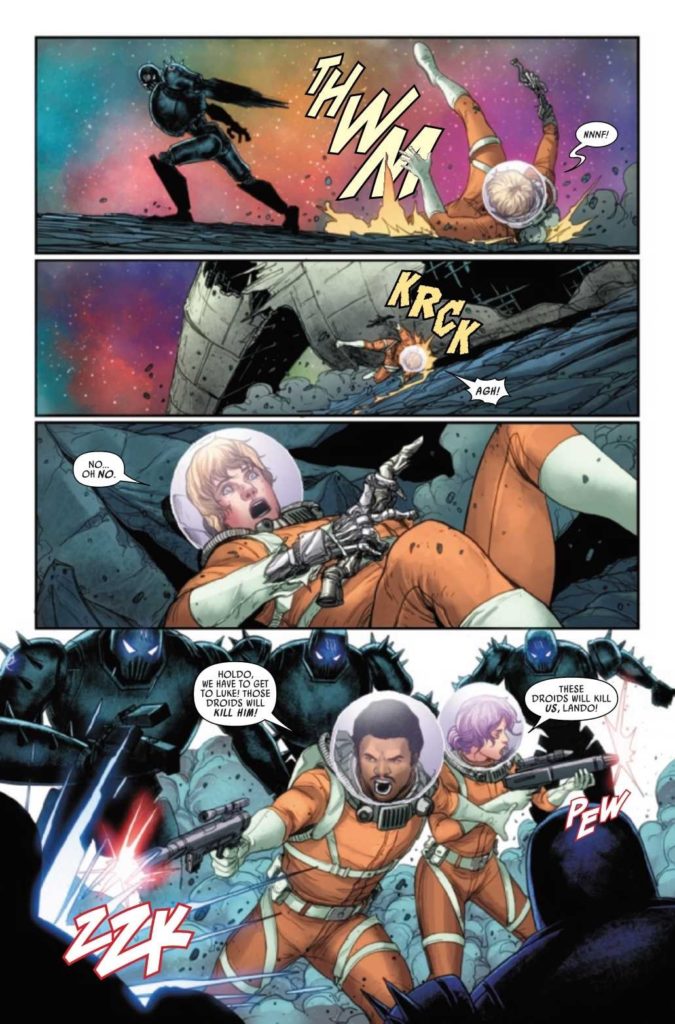 Luke continues to deal with a strange occurrence with the Force and his distraction by it almost gets him killed by the killbots trying to stop his team from stealing the Nihil Path Engine. Luke taps into the Force and does something unexpected even to him. Something that will give them the opportunity to escape and return to the fleet.
After returning and giving the people hope of escape, the reality of the universe they will be returning to forces Leia and Lando to get real with the colonists. A reality that will give one of them a change in attitude about their connection to the rebellion and their own future within it.
The Story: An interesting and entertaining story from Charles Soule. It does a great job of not only serving the characters and their struggle, but also putting things into perspective for some while evolving the ideas of others. I loved the scene with Leia and Lando explaining to strangers who they were and what they could be returning to and the contrast in their analysis was spot on. I also really enjoyed how Luke is continuing to evolve in the story and look forward to seeing what happens next with all of the characters.
The Art: Musabekov delivers some great visual throughout the issue. The art is thrilling, detailed and filled with great character moments and action.