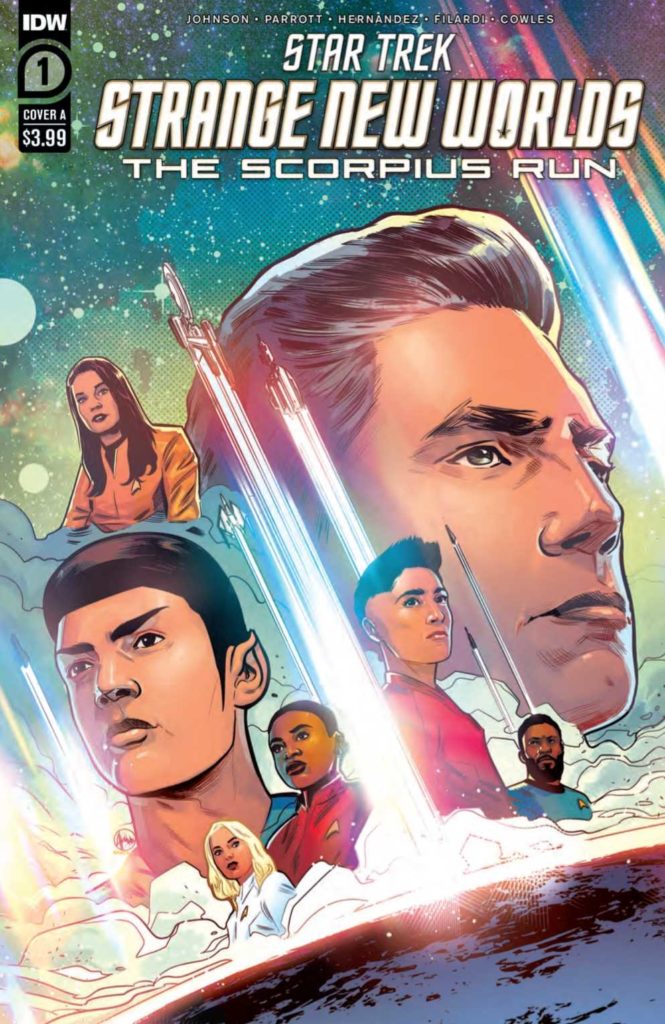 Star Trek: Strange New Worlds – The Scorpius Run #1
IDW Publishing
Written by Mike Johnson and Ryan Parrott
Art by Angel Hernandez
Colors by Nick Filardi
Letters by Clayton Cowles
The Rundown: The Enterprise unwittingly finds itself entered into a dangerous race.
The Enterprise has been sent to survey the Scorpion constellation and its unusual energy signatures are causing havoc with the ship and its crew. When Uhura picks up a distress call, Pike moves the ship in to help and discovers a strange ship and its pilot.
After saving the pilot Aisla, the ship and her crew find themselves in an unknown region of the sector and under the powerful thumb of an entity who wants the Enterprise to compete in a race if Pike wants to get the crew home. A race where the losers forfeit their ships and their lives.
The Story: A fun and entertaining issue that is filled with some great tension. Johnson and Parrott bring the energy and style of the series to this first issue and everything works from the character interactions to the stakes for the ship and her crew. The plot works because of the rising and changing stakes for the Enterprise and I look forward to seeing how the action continues.
The Art: Hernandez delivers some beautiful art in the issue. Not only do the characters look great, but the environments and ships are awesome to look at as well.