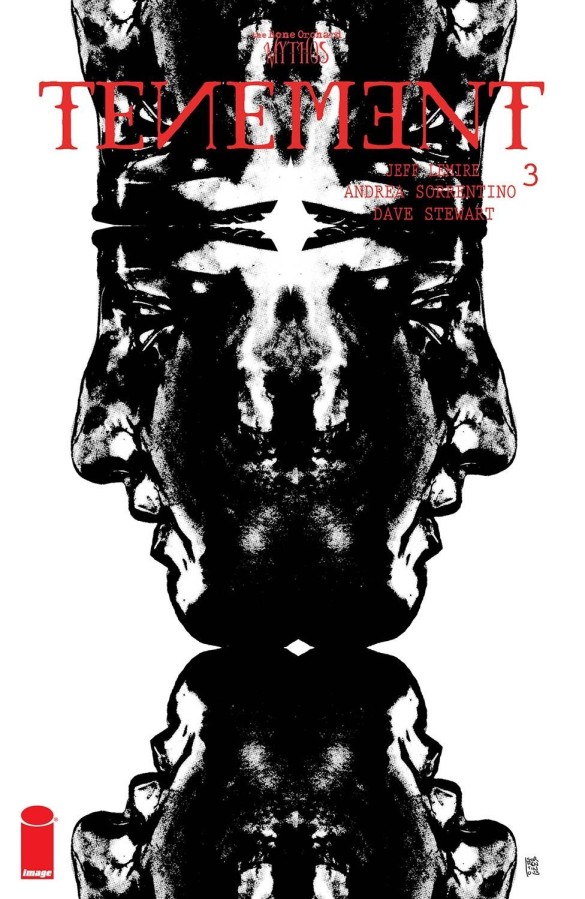 Bone Orchard: Tenement #3
Image Comics
Written by Jeff Lemire
Art by Andrea Sorrentino
Colors by Dave Stewart
Letters by Steve Wands
The Rundown: The residents discover a dark new world while they search for an escape.
The residents of the building discover that they are no longer in the city and neither is the building itself. With young Simon missing from the rest of the group, his mother descends the stairs to look for him. The rest of the residents follow.
As tensions continue to mount between the residents, they find themselves in a chamber where they are forced to battle dark creatures emerging from the shadows. Not all of them will make it out and when they find the boy he reveals they have a longer way to go.
The Story: Lemire ramps up the tension and terror in this issue. The story has some great character development and the rise in tension throughout is exceptional. I continue to love the dark tone and suspense within the series and this issue specifically. The story does a fantastic job of isolating a core group of characters and raising the emotional stakes for them. I can't wait to see what happens in the next issue.
The Art: Sorrentino delivers some fantastic art throughout the issue. The story is brilliantly dark in its tone and the art brilliantly connects to that darkness and brings it to life.