Star Trek: Picard – Stargazer #2
IDW Publishing
Written by Kirsten Beyer and Mike Johnson
Art by Angel Hernandez
Colors by J.D. Mettler
Letters by Neil Uyetake
The Rundown: Picard's return to a dead world reveals a dark history still being written.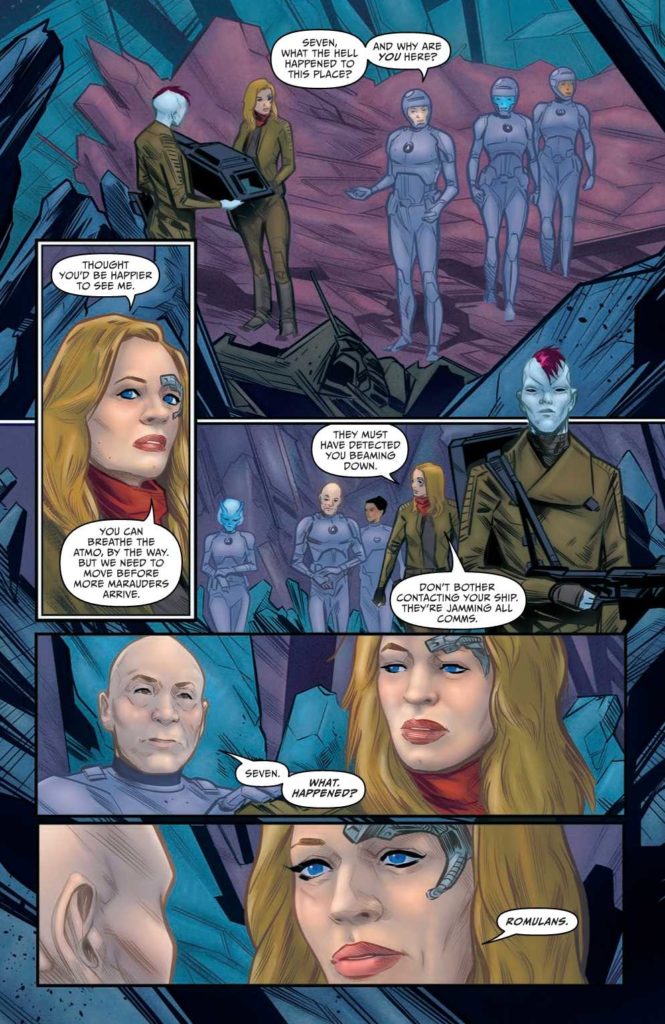 Years ago on Jenjor VI, the Romulans are pulling out from the planet after stripping it off everything that they need. Unfortunately, their withdrawal will leave their slave labor behind and the commander will leave something more personal. Years later, Picard is rescued by Seven and taken to the secret location of the remaining members of the indigeous population.
When Seven decides to take down the Reman marauders on the planet, Picard finds himself dealing with the Reman leader who has plans for the planet and its inhabitants. At the same time, the Stargazer finds itself facing off against a Romulan ship and its familiar commander.
The Story: Beyer and Johnson are developing an interesting and entertaining story in this issue. I like the way the story progresses both for Picard and Seven, but the backstory on Jenjor VI does have more compelling drama to it. I enjoyed the revelations in the story as well as how the ending sets up some interesting drama and peril for both Picard and the Stargazer.
The Art: Hernandez delivers some interesting and highly stylized art in the issue. It has some interesting visual elements that I found unique.