Star trek #9
IDW Publishing
Written by Collin Kelly and Jackson Lanzing
Art by Mike Feehan
Inks by Manuel Bracchi
Colors by Lee Lougheridge
Letters by Clayton Cowles
The Rundown: Sisko awaits his verdict as the crew of the Theseus fights a dangerous cult.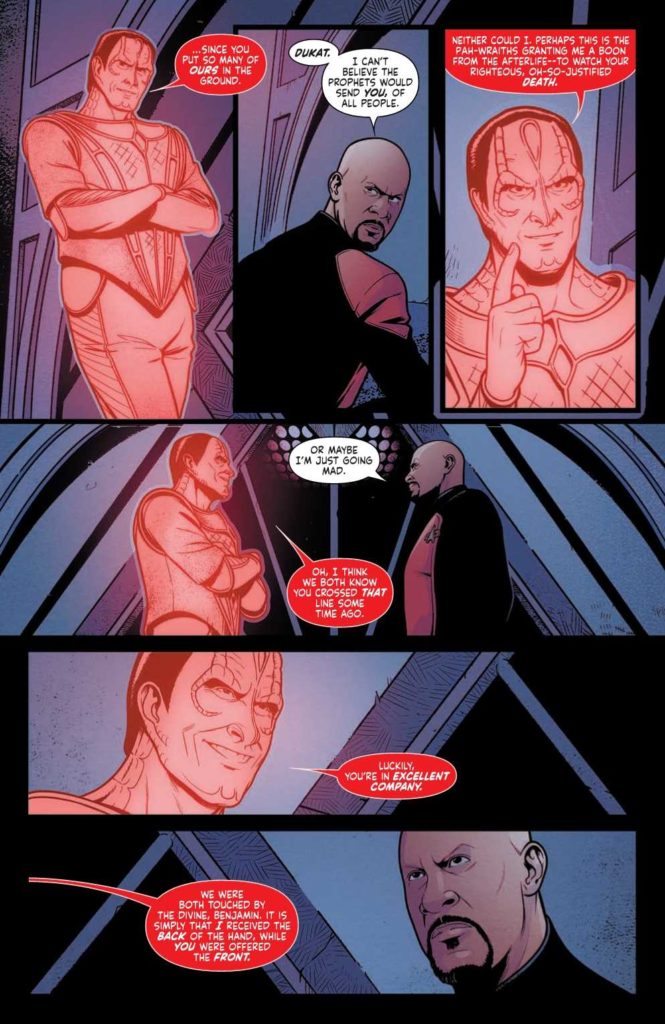 The Theseus crew find themselves fighting a group of Cardassians who have bought into the cult of Kahless. As the ship continues to deal with the effects of the nebula, they find a way to send reinforcements for the away team. With the battle raging throughout the station, they discover the Bajoran orb they are seeking, but it might be more dangerous than they expected.
At the same time, Sisko reaches out to the prophets, but finds himself being answered by the spirit of Dukat. When Garak returns to take him back to face the verdict of his trial, Sisko does something unexpected. Something that might bring peace to the war torn planet at the cost of his own life.
The Story: Kelly and Lanzing definitely know how to deliver a cliffhanger with this issue. The action is fantastic. The rise in tension is great and both sides of the story are compelling and engaging either physically or psychologically. The story is exciting and filled with thrills throughout. The story perfectly captures everything that is thrilling and cool about Star Trek. I was riveted from start to finish and cannot wait for the conclusion.
The Art: Bracchi delivers some fantastic imagery throughout the issue. The action scenes are fantastic and perfectly complement the political drama happening with Sisko.