Star Trek #11
IDW Publishing
Written by Collin Kelly and Jackson Lanzing
Art by Angel Unzueta
Colors by Marissa Louise
Letters by Clayton Cowles
The Rundown: While members of the crew attempt to get the Defiant working, interpersonal conflicts threaten to end their mission.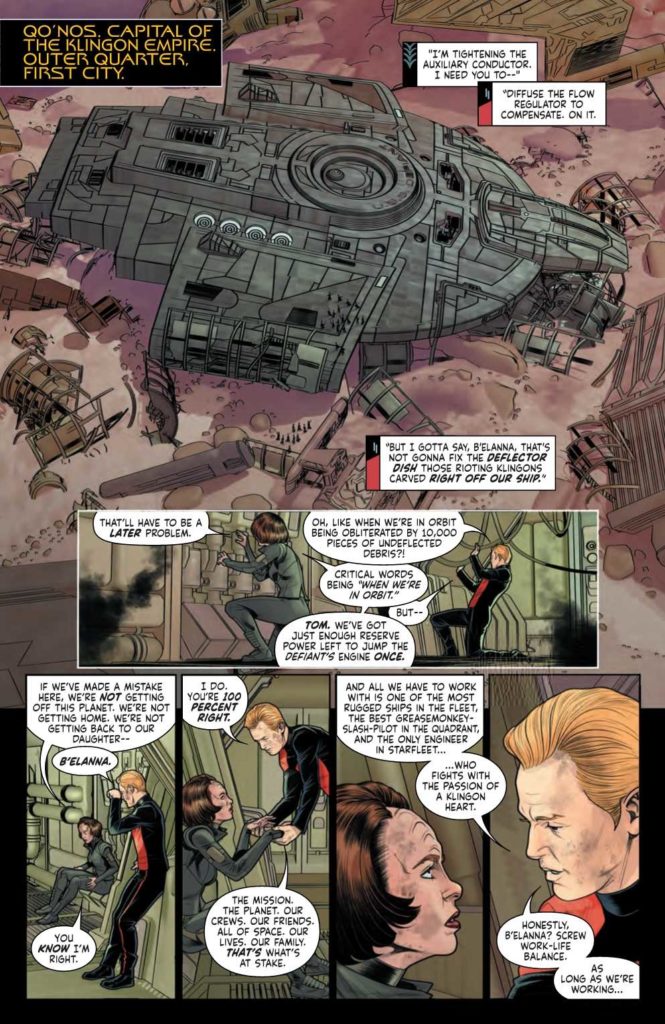 Tom and B'Elanna work to repair the Defiant and get her into orbit while thinking about what they could lose by staying. Ro deals with her own fears as the junior officers working with her stand determined to finish their mission and the Theseus is running out of options as they attempt to keep the Romulan ships busy.
With tensions rising on the planet, Data is betrayed by Lore. At the same time, Beverly confronts Sela as she tries to keep Matrok alive and Worf and Sisko confront Kahless who is using someone they know to stop them.
The Story: The rising tension throughout this series has been one of its hallmarks and this issue continues that tradition. Kelly and Lanzing continue to develop a thrilling, rousing adventure that encapsulates the best of the characters we know and love while also giving new characters moments to shine and impress. There is a great moment between Beverly and Sela that I loved and everything leads to a startling and intense showdown that I cannot wait to see play out.
The Art: Unzueta delivers fantastic visuals throughout the issue. The visual look of the issue and the characters and environments is amazing and the art perfectly captures the intensity of the story.