The Invincible Iron Man #9
Marvel Comics
Written by Gerry Duggan
Art by Juan Frigeri
Colors by Bryan Valenza
Letters by Joe Caramagna
The Rundown: Tony Stark's world is crumbling and his alliance with Emma will lead to a dark partnership.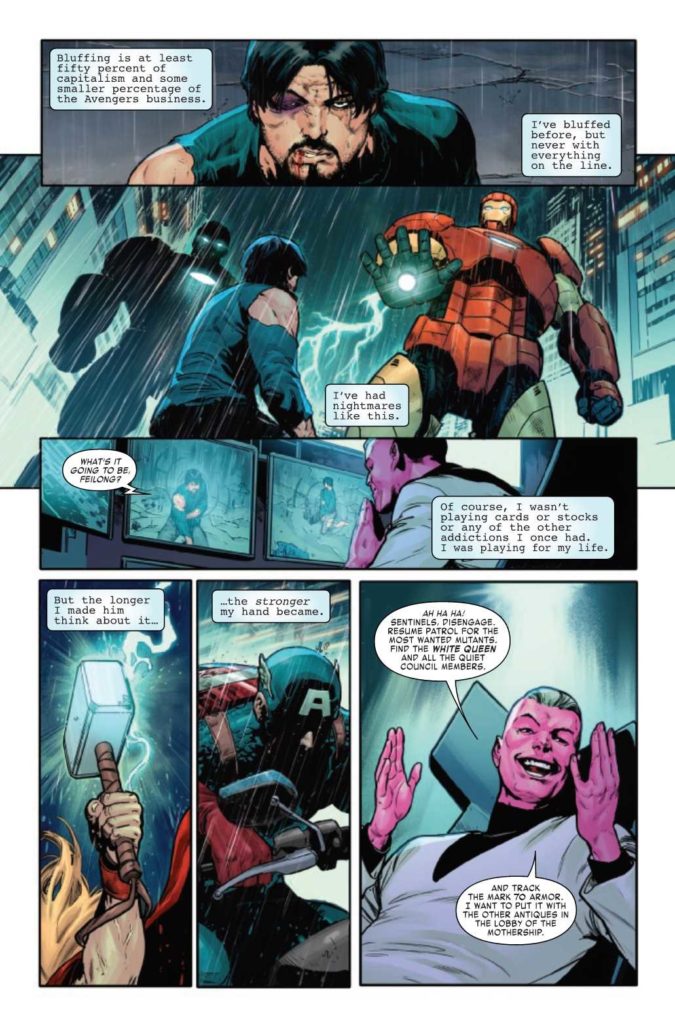 Tony Stark's life is falling apart and Feilong is the cause. After giving Emma the chance to escape with his armor, Tony distracts the Stark Sentinels long enough for some friends to arrive. In the aftermath, he tracks her down and gives her the bad news about what is happening to the mutant world in her absence.
At the same time, Rhodey is dealing with constant attacks in prison and even She-Hulk cannot help him. With things getting darker for Iron Man, he decides to come up with a new plan. One that will team him with Emma, a return to the Hellfire Club and a meeting with the new White King.
The Story: Duggan does a great job of bringing drama and tension to this story. I like the darker tone of the plot and how low the story is taking Tony Stark. His banter with Emma is engaging and I like how they interact with each other. I really enjoy this arc and how it signals a change for Tony and I look forward to seeing what the change will be.
The Art: Frigeri delivers great art throughout the issue. The story is character focused and the art exemplifies that with great shots of the characters interacting. A great looking issue.