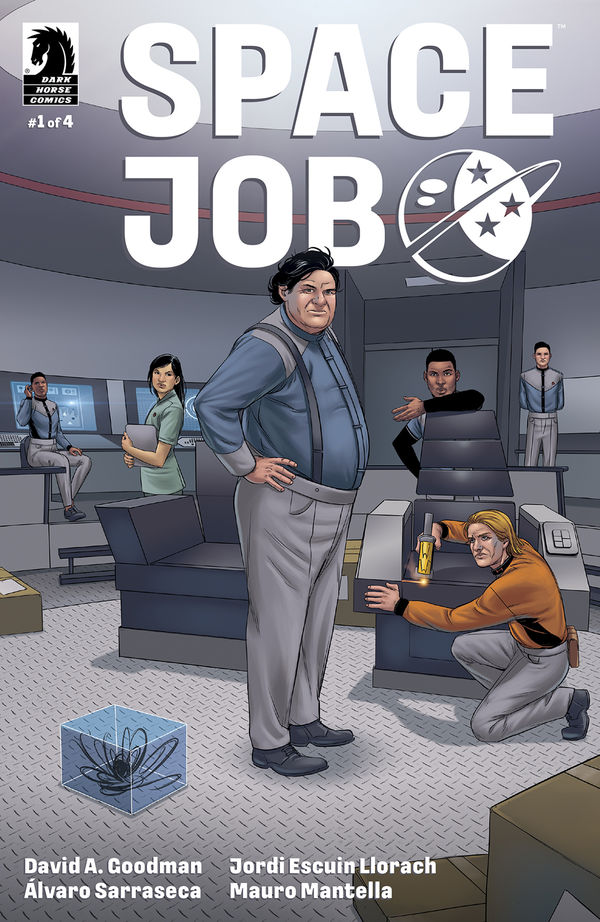 Space Job #1
Dark Horse Comics
Written by David A Goodman
Art by Alvaro Sarraseca
Colors by Jordi Escuin Llorach
Letters by Mauro Mantella
The Rundown: A new officer prepares to become a member of an interesting crew.
Danny Sheridan is excited to be moving from chef's assistant on a space station to the first officer of the SS. George W Bush which is on its way to his sector to pick him up. Or so he thinks. After revealing his big plans for the ship and all the changes he's going to make, Danny finds himself the victim of an unfortunate accident when he finally gets aboard the ship.
The rest of the crew scramble to deal with the situation while the Captain has other things on his mind. At the same time, the Operations officer is looking for any way to get off the ship and away from both the annoying Captain and the more annoying officer constantly following him. The Chief Medical Officer is dealing with her marriage issues and the Chief Helmsman is hiding a huge secret.
The Story: An entertaining and darkly humorous debut issue from Goodman. The characters and circumstances are funny and interesting and I love the early twist in the story and how it subverts all my expectations about the direction the story was going in.
The Art: Sarraseca does great work with the visuals in the issue. I like the look of the characters and their world.