Shock Shop #3
Dark Horse Comics
Written by Cullen Bunn
Art by Danny Luckert and Leila Leiz
Colors by Danny Luckert and Bill Crabtree
Letters by Nate Piekos
The Rundown: The Shock Shop continues its two scary and disturbing stories.
Something in the Woods, In the Dark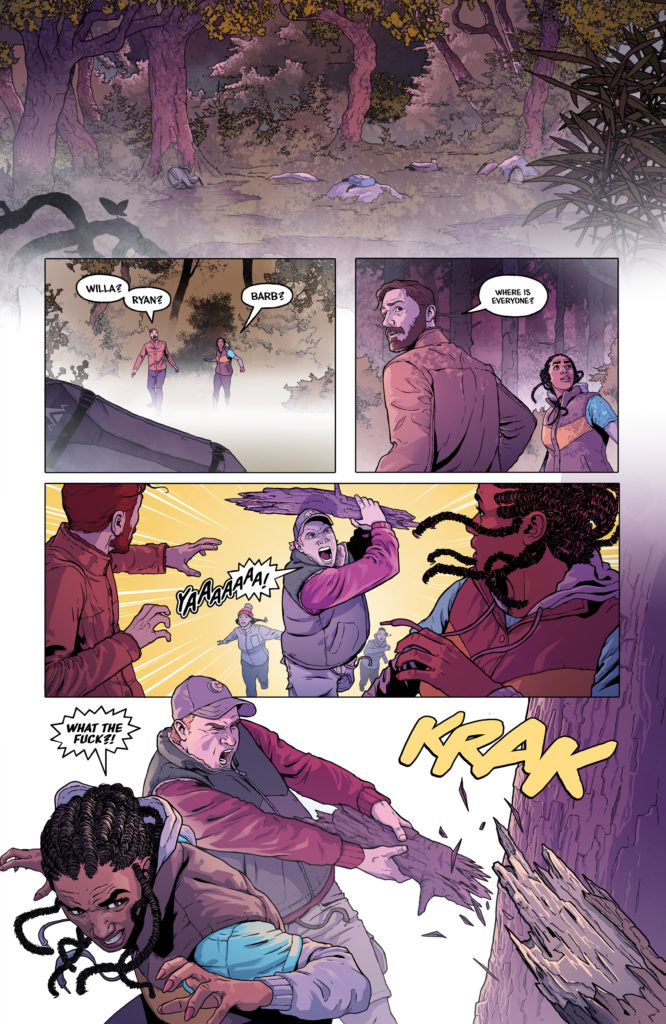 The remaining friends discover that there is not one creature stalking them through the woods, but two. As they find themselves meeting up with the others and realizing how few of them are left, tensions continue to rise as they realize they can't trust each other. With light fading, the group tries to camp for the night, but an unexpected attack will put the survivors between the two monstrous forces stalking them.
A terrifying, tension filled ride that pleases with every twist, turn and revelation. Fantastic art by Luckert boosts the scares and surprises throughout.
Familiars
After Kyle is killed, Trevor goes to the funeral to support his ex and their kids. After a tense exchange with Nancy's parents, Trevor gets angry. In the aftermath, the demons pay a visit to Nancy's parents. A visit that will prompt her to seek out Trevor and tell him not to see the kids. Flying into a rage after she leaves, Trevor realizes that his anger might set off a chain of events he cannot stop.
The terror and tension continues to rise brilliantly in this story. Seeing the slow realization of what is happening is great and the reader begins to feel like part of the story as well. Great art brings out the emotion of scenes and the terror of others.