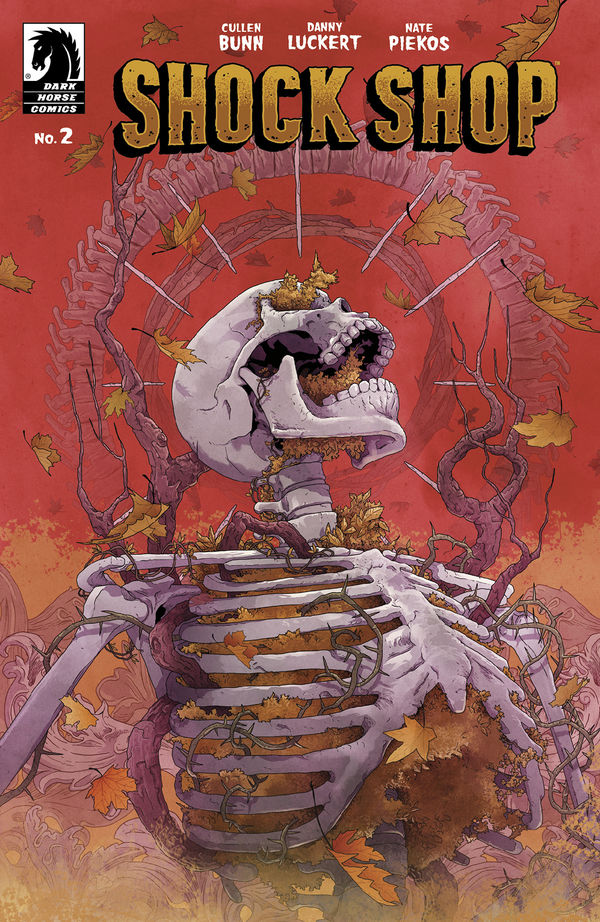 Shock Shop #2
Dark Horse Comics
Written by Cullen Bunn
Art by Danny Luckert and Leila Leiz
Colors by Danny Luckert and Bill Crabtree
Letters by Nate Piekos
The Rundown: Two disturbing tales continue in this issue.
Something in the Woods, In the Dark.
The campers wake the next morning to discover that Tom is dead and his body seemingly drained. Not knowing what to do next, Clark attempts to lead the group back to their cars. With night getting closer, the group stops and Kelly thinks she sees Tom in the shadows. After chasing him down, she and the others will discover the dark, terrifying entities stalking them.
A wonderfully tense and disturbing tale that continues to ramp up the tension with each moment. I love both the external tension and the subtle tension between the characters and how it plays out in the story. All of those simmering resentments and secrets make the story richer and more engaging along with the fantastic art.
Familiars
With his weekend with the kids over, Trevor returns them to their mother and her new boyfriend. An exchange that is tense for Trevor as one of the kids reveals something unexpected and he finds himself having to cover. After the group departs, one of the kids leaves an item at Trevor's house. An item that forces Kyle to have to drive out and retrieve it. Trevor's anger at the situation unknowingly prompts the entities haunting his house to go after Kyle and the results are unexpected when they return home.
An entertaining and exciting story that beautifully builds on the emotion of the character. The plot has some great setups and pays them off brilliantly and violently. The art is beautifully complex and complements the tone and style of the story brilliantly.