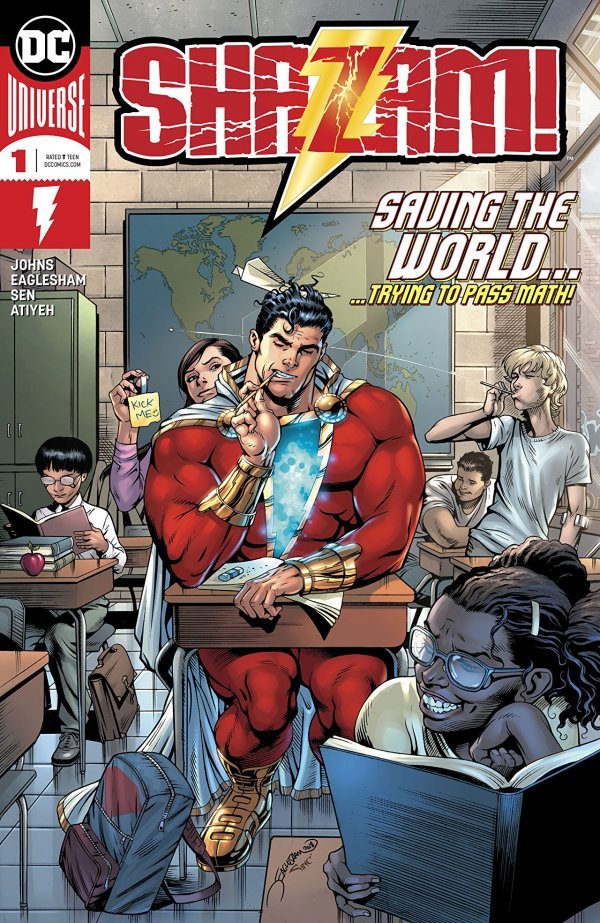 Shazam #1
DC Comics
Written by Geoff Johns
Art by Dale Eaglesham
Colors by Mike Atiyeh
Letters by Rob Leigh
Billy Batson and family are going to discover that there is more to the Rock of Eternity than they dreamed of.
It's been a year since Billy Batson joined his new family and in that time he has become a superhero in his own right as well as gifting power to his adoptive brothers and sisters.
It's an interesting and unique family dynamic that they have and it might be the secret to unlocking the secrets that the wizard Shazam did not live long enough to impart to the young man.
While on a field trip with his class, a group of thieves attempt to steal some valuable weapons and run into Shazam and his super-siblings. They easily fend of the crooks and take them into custody, but the problem with being a group of kids in the bodies of adults is that those immature personalities continue to dominate as the newest superhero team in Philadelphia can't seem to agree on a name for themselves. When they make it home to celebrate Billy's anniversary, they find that there are more mysteries to the Rock of Eternity and a sudden visit to their home could change Billy's life forever.
This was a fun first issue that did exactly what it set out to do. It's laying the groundwork for a bigger story of discovery for Billy and his family. I like the concept of giving Billy something to uncover, I worry that the cast of characters might be too distracting. What mitigates their inclusion in this book might be a liability to the storytelling. I'm going to trust in Johns to deliver something interesting in the next issue and the reveal at the end of this one sets that up well.
Eaglesham's art in this issue is great and there are some really impressive and fun details in the panels.