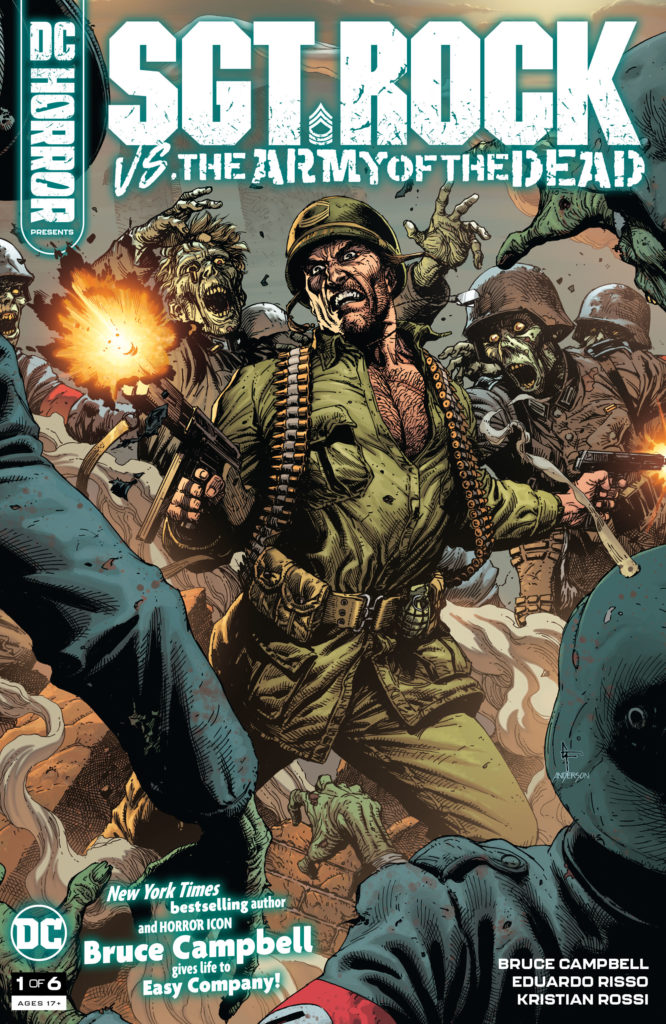 Sgt. Rock Vs The Army of the Dead #1
DC Comics
Written by Bruce Campbell
Art by Eduardo Risso
Colors by Kritian Rossi
Letters by Rob Leigh
The Rundown: A dangerous new weapon in the hands of the Third Reich will require an elite team to destroy.
It is the height of World War II and Hitler is desperate with all of his forces spread out and defending Germany on multiple fronts, the Nazis are running out of supplies, munitions and men. Unfortunately, the Nazi leader is not completely without resources in the form of his personal doctor who is leading a new project with some deadly and disturbing results. A project that will reanimate dead soldiers to continue the fight.
After US forces encounter a small number of Nazi zombies, the brass calls in Sgt. Rock and Easy Company to brief them on their new mission. One that will require them to be outfitted with the latest in tech. One that will prompt them to dig in and win after they discover just how tough their new enemy can be.
The Story: Campbell delivers a fun, rousing adventure that is filled with humor, heart and great tension. The plot is great because of the classic feel of both the plotting the dialogue. It reminds me of some of the great silver age comics with a supernatural twist. The story has a great buildup to a great cliffhanger that makes me interested in seeing what comes next.
The Art: Risso delivers some beautiful art in the issue. There is a brilliant use of shadow to convey emotion and I love the dramatic look of the characters.