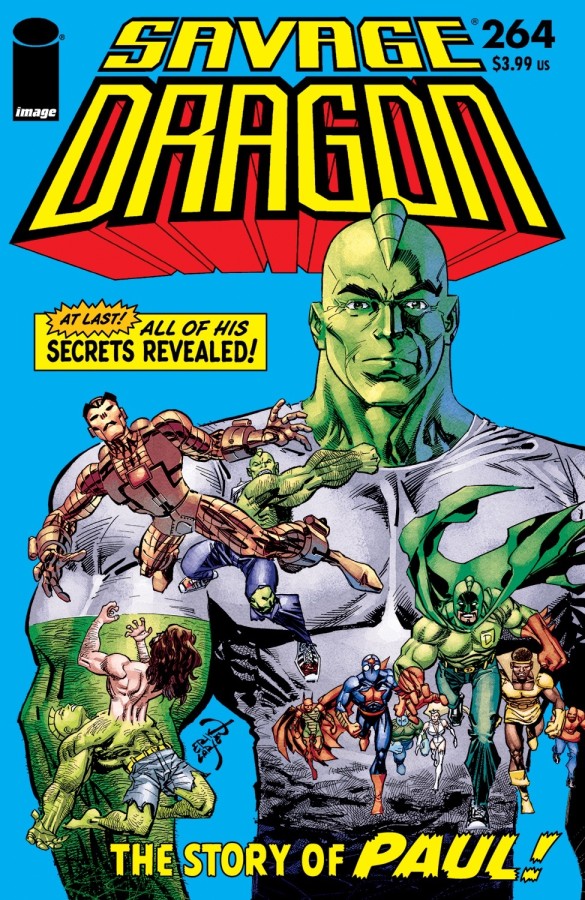 Savage Dragon #264
Image Comics
Written by Erik Larsen
Art by Erik Larsen
Inks by Mike Toris
Colors by Nikos Koutsis
Letters by Jack Morelli
The Rundown: The truth about Paul Dragon is revealed as his story is finally told.
Reporter William Jonson doesn't remember a lot about how he ended up in a burning building, but one night he discovers something strange and unique about himself when an assassination attempt goes violently wrong. Eventually, William takes up the mantle of a missing superhero named Dragon and defends the city while his alter ego leads a relatively normal family life.
Over time, things change for William and he finds himself separated from his alter ego. An alter ego that begins a life of his own as Paul, the Savage Dragon. A life that will be filled with love and loss and the opportunity to bring back someone he loves.
The Story: Larsen does a brilliant job of bringing Paul's story together for current and new fans alike. The story is compelling and filled with great action throughout. I like the way the story moves from moment to moment without jarring the reader. It gives the story a great narrative flow that is incredibly engaging. I look forward to the next part of Paul's story.
The Art: Larsen delivers great art throughout the issue. From the intense action scenes to the beautifully framed character moments, the issue is visually compelling from start to finish.