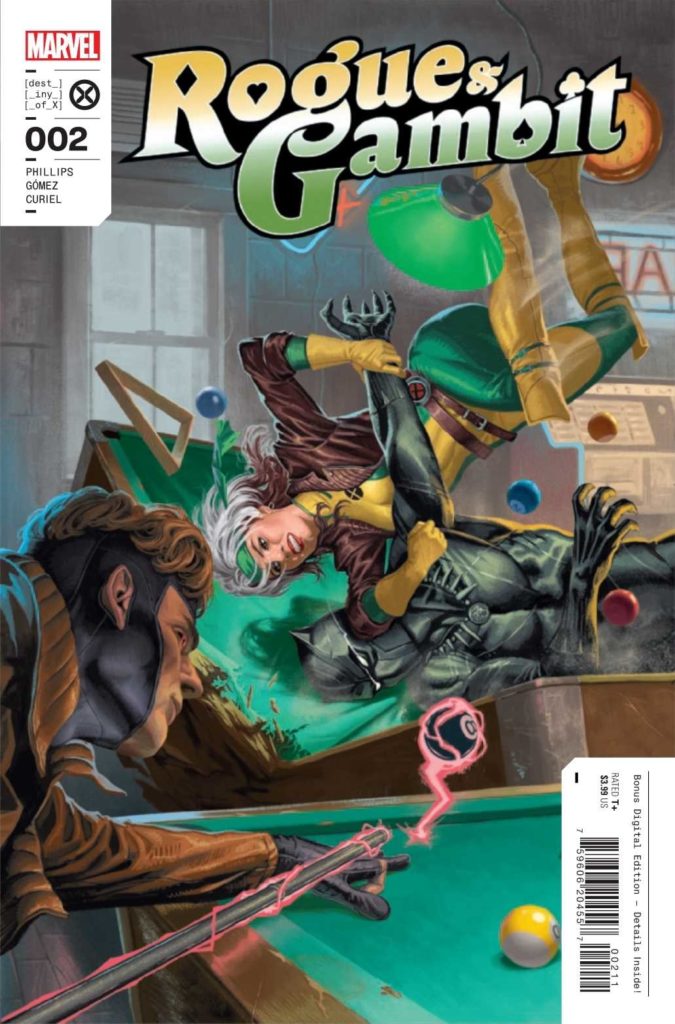 Rogue & Gambit #2
Marvel Comics
Written by Stephanie Phillips
Art by Carlos Gomez
Colors by David Curiel
Letters by Ariana Maher
The Rundown: Rogue and Gambit find themselves targeted by an Avenger while they continue their mission.
With their powers not working, Gambit and Rogue find themselves wandering the desert after Manifold teleported them out of harms way. Their search for civilization will give the couple some time to reconnect as Manifold discovers that he has been targeted by an unknown entity.
When the couple find a small town and a bar that is uncharacteristically friendly, they finally have some time to take a breath and think of a new plan. Unfortunately, Black Panther arrives to confront the couple and he is not there as a friend.
The Story: Phillips crafts a fun adventure with some great moments of humor and surprises. The story is light, but still has some great tension both with the couple and with the bigger threat. The banter between the characters is relatable and fun. The Black Panther conflict was a little off to me simply because he is more strategic and less standoffish of a character. I look forward to seeing where the story goes next.
The Art: Gomez delivers some great art throughout the issue. The character designs are great and I loved the atmosphere of the story and the environments the characters interact with.