Predator #5
Marvel Comics
Written by Ed Brisson
Art by Kev Walker
Colors by Frank D'Armata
Letters by Clayton Cowles
The Rundown: Theta is captured, but the people who want the knowledge she has don't know what is coming for them.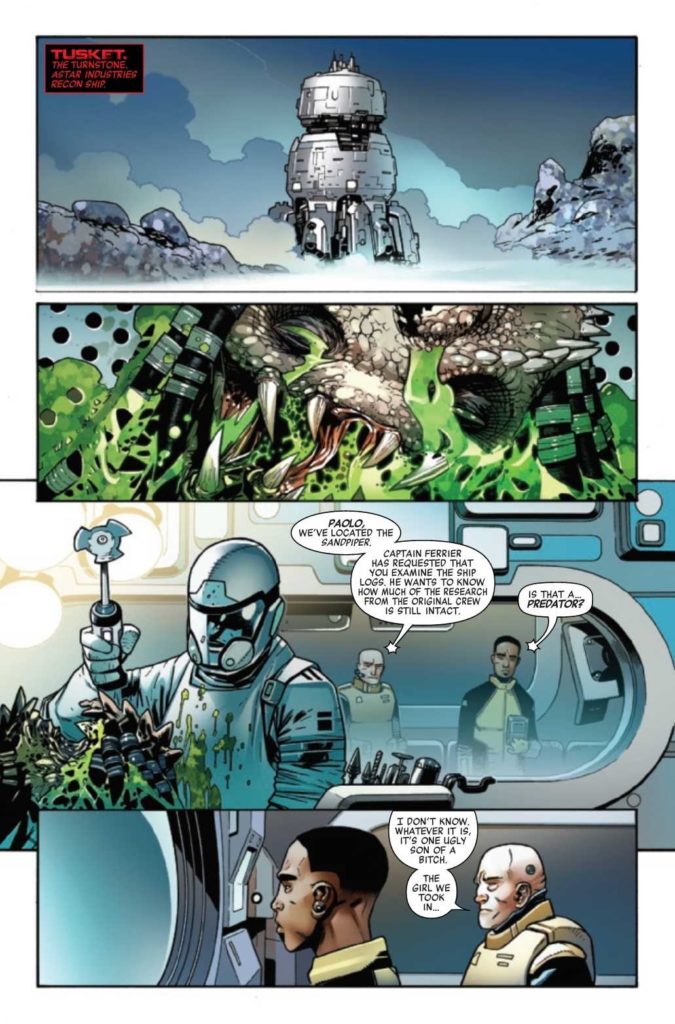 The Captain of the Astor ship Tusket has captured Theta and are dissecting the Predator she killed. While the science officer marvels at the amount of kills the young woman has made, the Captain wants answers. After his initial interrogation of Theta, he decides to lock her away despite her protests that they need to let her go. Things get more intense when the science officer unlocks her ship and discovers exactly who she is and what she's been doing.
After telling the Captain what he discovered, he confronts Theta again. Theta decides to escape from her captives and takes the science officer hostage. After being confronted by the Captain, they discover too late that the ship is under attack and a Predator looking for revenge is on board.
The Story: Brisson delivers great tension in this issue. There is a great sense of this rising tension in the interactions between Theta and the Captain as well as the Science Officer's investigation of Theta's ship. As a reader, you know something is coming and everything leading up to it is handled brilliantly from the characters to the action. I cannot wait to see how this story is resolved.
The Art: Walker's art is beautifully detailed and perfectly illustrates the tension of the story before hitting the reader visually with an awesome reveal at the end.