Predator #4
Marvel Comics
Written by Ed Brisson
Art by Netho Diaz
Inks by Belardino Brabo
Colors by Erick Arciniega
Letters by Clayton Cowles
The Rundown: Theta wakes up to betrayal and a bigger threat.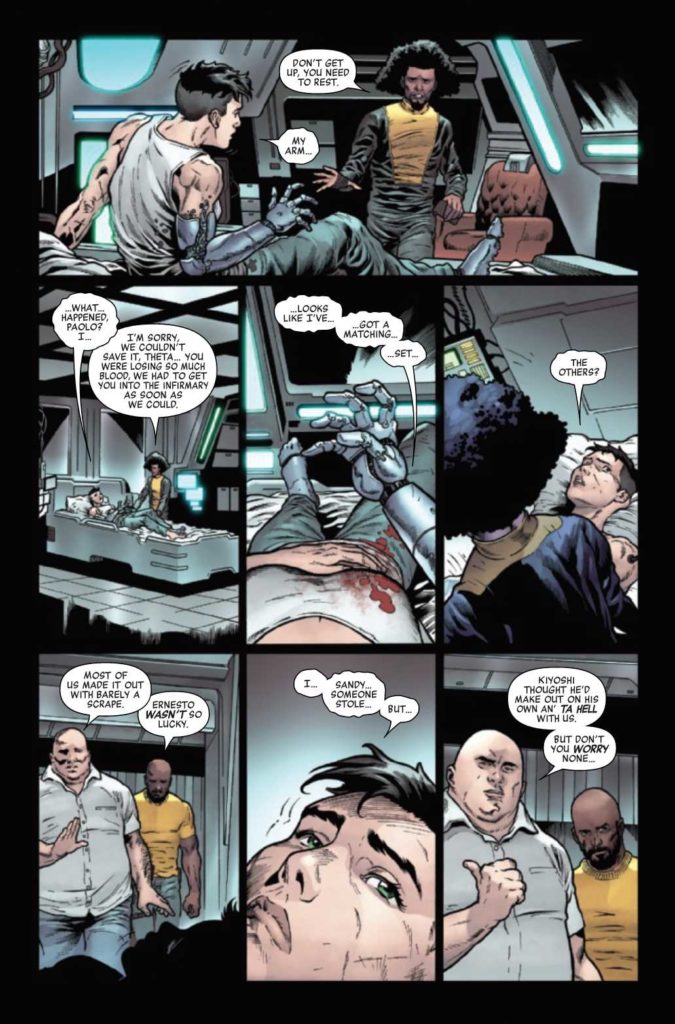 In the wake of her last encounter with a Predator, Theta awakens on a ship in space while some of the survivors plot to take it over. After finding out that she's lost an arm to match her missing leg, she begins to recover from her injuries while getting used to her new robotic appendage. At the same time, two of the survivors discover they are not the only ones on the ship.
As the survivors break off into factions and the ones looking to take the ship from Theta take control of the control room, they will discover that there is a Predator on board hunting them all.
The Story: Brisson keeps up the action and tension in a story that brings all the desperate character elements together in the face of a bigger threat. The interpersonal conflicts are a great backdrop for the Predator to move within and I like seeing Theta continue to deal with the reality of her condition in the face of her mission of revenge. There's some great tension throughout the issue and the end leaves the reader with a great cliffhanger to entice them back for more.
The Art: Diaz delivers some awesome, gritty action throughout the issue. The imagery is eye-catching and I love the claustrophobic feel of the ship as the characters move throughout the story.