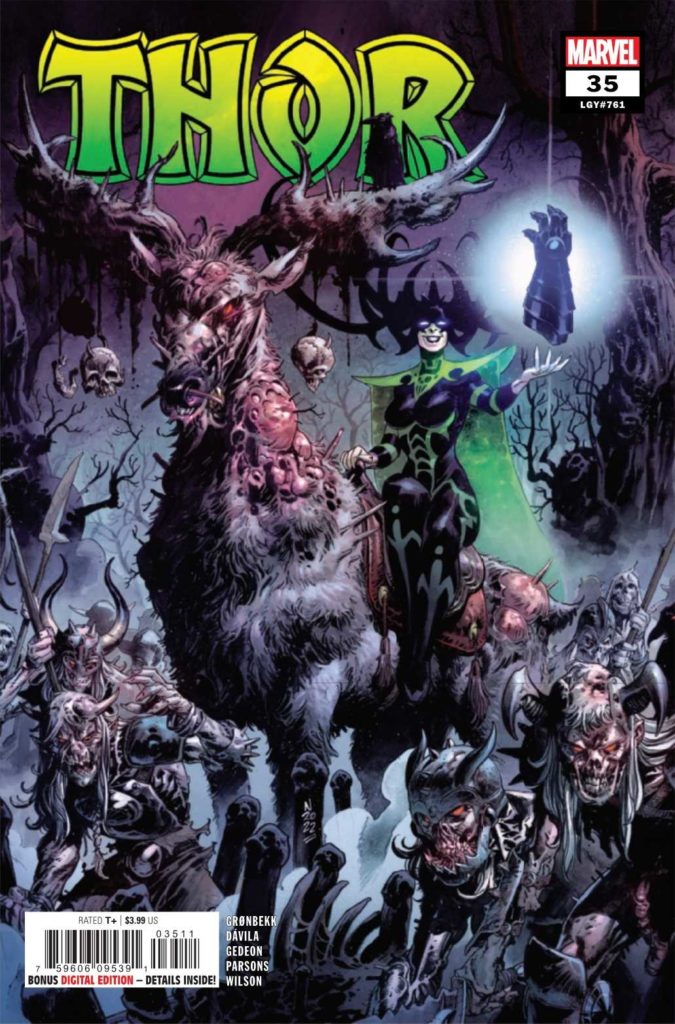 Thor #35
Marvel Comics
Written by Torunn Gronbekk
Art by Sergio Davila and Juan Gedeon
Inks by Sean Parsons and Juan Gedeon
Colors by Matt Wilson
Letters by Joe Sabino
The Rundown: Hela confronts Doom as Thor brings his sister and a young Hela face to face with Loki.
Thor brings Laussa and young Hela to the past to introduce the young woman to her father Loki as well as tell a tale of they made it to the land of the Frost Giants in order to trick them into giving up a blade of great power. A tale that will culminate in betrayal and an interesting conversation between family members.
At the same time, Jane gathers with Odin and Bor as the former king and the dead prepare to depart for Valhalla. As she gives the former king the grace and time to confront the end of his story, the adult Hela confronts Doom about the power he is trying to use while Runa seeks to end its threat.
The Story: Gronbekk brings this tale to an epic and thoughtful end with great moments for Thor, Odin and more. I enjoyed the heartfelt moments within it as well as the humor and the bittersweet moments with Odin as he accepts his fate. It's a great moment that not only frees Odin, but also Thor and I look forward to seeing where the story goes as Thor fully steps into the role of king.
The Art: Davila and Gedeon have wonderful, complementary art styles and they work beautifully together to weave the different times and places together into something wonderful to see on the page.