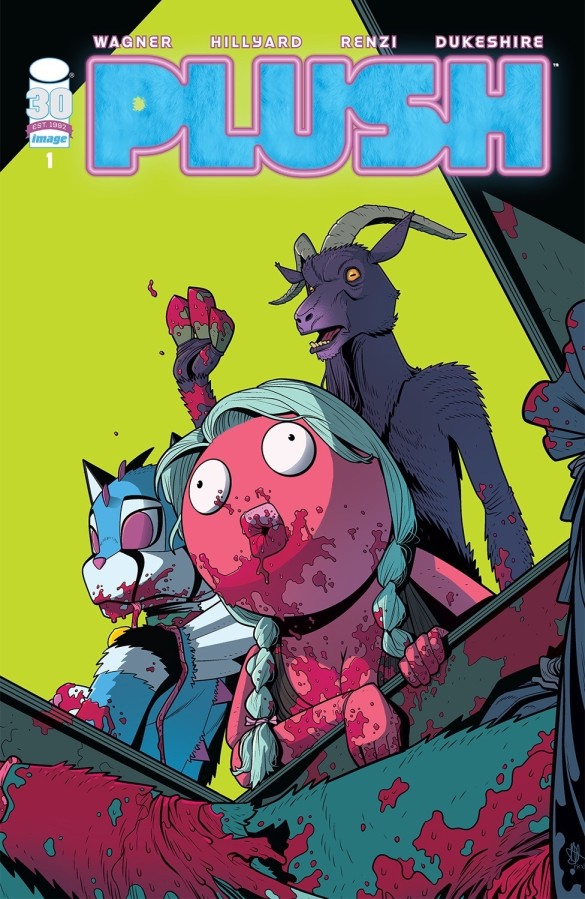 Plush #1
Image Comics
Written by Doug Wagner
Art by Daniel Hillyard
Colors by Rico Renzi
Letters by Ed Dukeshire
The Rundown: Devin Fulcher's already downward spiraling life is going to get a lot more complicated.
David Fulcher is the son of one of the richest families in town and he has a problem. He doesn't want to marry the sheriff's daughter after discovering she cheated on him. His friend Levi decides to take him out to a local Furry bar to cheer him up. After taking a drink, he sees something that disturbs him and causes him to run into a local deputy with a personal connection to his spiraling social life.
After being brought into the sheriff's office, he is threatened by the man to marry his daughter and thrown into a cell for the night. When the deputy and his buddies decide to teach David a lesson, he discovers too late that he is being followed by a group of cannibal furries.
The Story: Wagner crafts an intense and darkly comedic story in this first issue. I love all of the conflicts put in front of David both physical and emotional and the story engages the reader to go with him on this strange journey he's landed in. I love the off the wall premise of this story and definitely look forward to seeing where it goes and what twists and turns it takes.
The Art: Hillyard delivers some great visuals throughout the issue. From the characters to the horror, everything look awesome.