Pearl #9
DC Comics/Jinxworld
Written by Brian Michael Bendis
Art by Michael Gaydos
Letters by Joshua Reed
Pearl is in the belly of the beast in Japan as she goes to visit her uncle and discuss both her mother and her future.
Things get more complicated when Rick decides on impulse to hop a plane to Japan and meet her, live streaming his journey. Pearl is already on edge as she prepares to meet with her uncle and the arrival of Rick is unexpected, but she does find it sweet and endearing. With a bigger crisis happening, Pearl is put off until the next day and she and Rick decide to spend sometime together.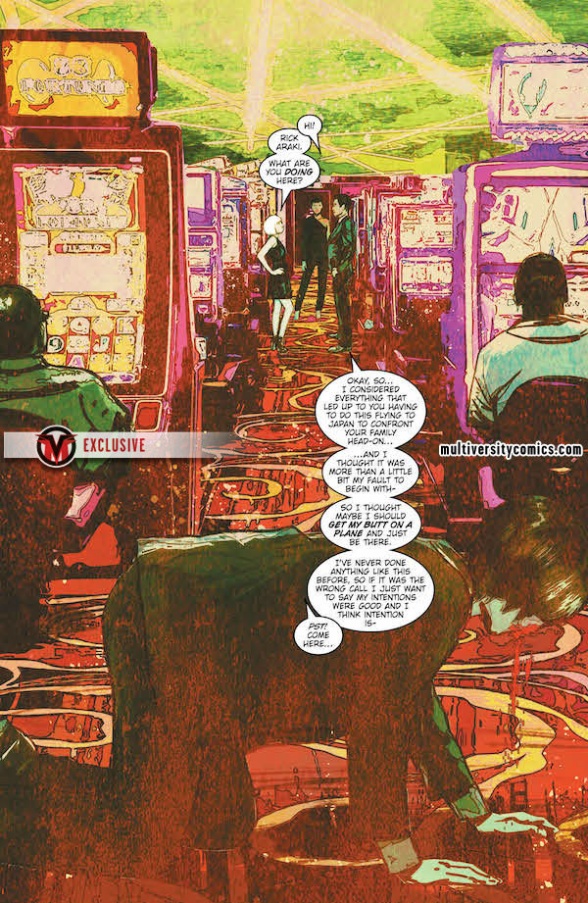 After a restless night, Pearl returns the next day to see her uncle and learn more about her mother, her mother's secrets and how she controlled her own clan. After learning the disturbing rumors about her birth, Pearl is finally ready to tell her uncle what she wants. As he listens to her not unreasonable demands, her uncle informs her that there is another matter that she needs to address, Miike. When the man himself enters, he and Pearl have a reckoning about his betrayal. A reckoning that prompts her to demand something else from her uncle.
Pearl continues to be an incredibly rich and engaging story. Bendis is taking his time with both the plot and the characters and that character development for Pearl and her supporting characters make this issue and the previous ones so appealing. The story feels grounded with a sense of immediacy that brings the reader back to this world and its characters.
Michael Gaydos' art is brilliant. The style is unique and all of the compositions are filled with gorgeous details.