In the midst of a summer filled with big budget spectacle, superheroes and special effects, sometimes we forget that there is some truly unique, ballsy cinema to be found out there as well.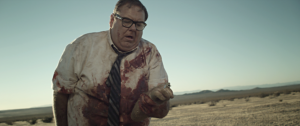 Writer/Director Ned Crowley (Parting Words) has an utterly unique film coming to theaters this week called Middle Man. The film stars Jim O'Heir, best known for his role as Garry/Jerry/Terry/Berry Gergich on the sitcom Parks and Recreation, as Lenny Freeman. A straight-laced accountant who decides to deal with his personal loss and financial woes by becoming a stand up comedian. Lenny hits the road in pursuit of his dream and runs into some sobering reality along the way.
Middle Man also stars Andrew J. West (Once Upon A Time), Josh McDermitt (The Walking Dead), Anne Dudek (The Flash) and Tracey Walter (Batman).
Lenny Freeman's dream of being a famous comedian is about to become a nightmare. Not only is he stuck in a dead end accounting job, Lenny has a bigger problem — Lenny is not funny. When his mother suddenly dies, he quits his job and heads to Vegas in search of fame. But along the way, a mysterious hitchhiker lures him into a desert-town killing spree with dark and twisted result – as the bodies pile up, Lenny actually becomes funnier and funnier.
The trailer for the Middle Man, which opens Friday June 9 in select cities, looks edgy and entertaining with dark humor throughout. Let me know what you think in the comments below.
@superpoweredfan on Twitter