Nubia: Queen of the Amazons #4
DC Comics
Written by Stephanie Williams
Art by Alitha Martinez
Inks by Mark Morales and John Livesay
Colors by Alex Guimarães
Letters by Becca Carey

The Rundown: Nubia and Nesser battle for Sekhmet's amulet. In the past, Princess Zahavah undergoes a deadly test in order to receive a precious gift from the goddesses.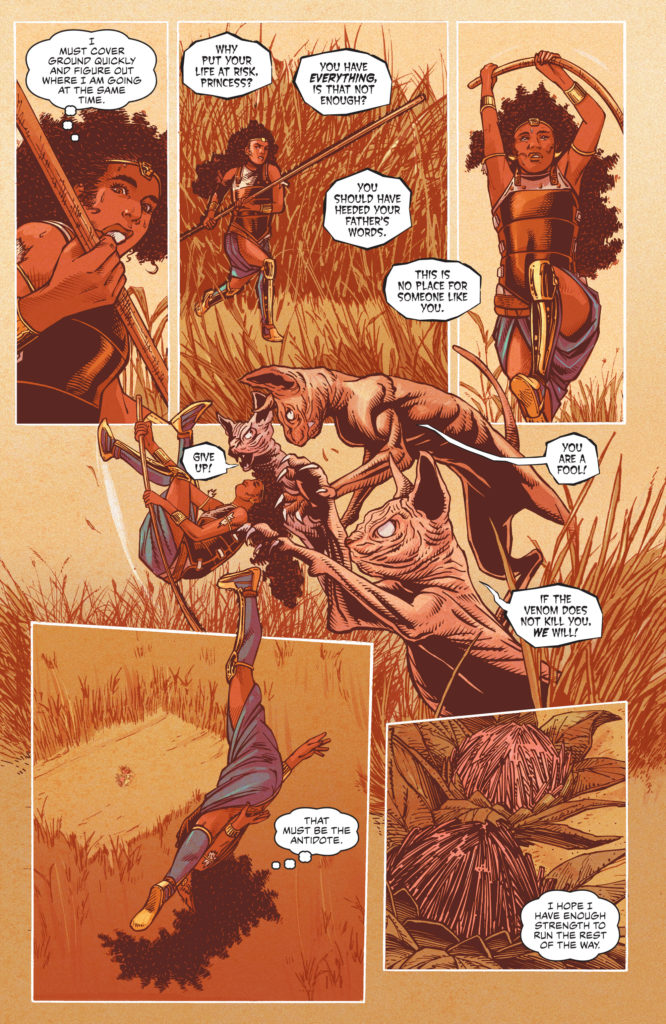 In Madagascar, Nubia approaches the temple of Sekhmet while a flashback explores her time there in the distant past. Soon she encounters Nesser, and a deadly confrontation occurs. After which, Nubia expresses sorrow for her actions. Meanwhile, In São Paulo, the Amazons and Hawk Girl assist in a recovery effort following a devastating attack. Afterwards, they make their way to Madagascar to meet up with Nubia. Finally, a conversation between goddesses leads to unexpected results.

The Story: This four-part mini-series ends with a tie-in to the long running Wonder Woman comics run. Williams does an excellent job wrapping up the previous storyline while introducing a path for more Nubia content. I really liked how Nubia comes to terms with her past while embracing her present. I also appreciate how this series added African deities into the DC Universe to compliment Nubia's reimagined heritage. I am look forward to a potential Nubia/Diana team up in the upcoming Wonder Woman chapters.

The Art: This colorful issue features well done and exciting action scenes. Also, the attention to character expression and form are emotionally connective. As with the previous issues, I am impressed by the ethnically inclusive artwork that focuses on varying skin tones, hair textures, and body shapes.