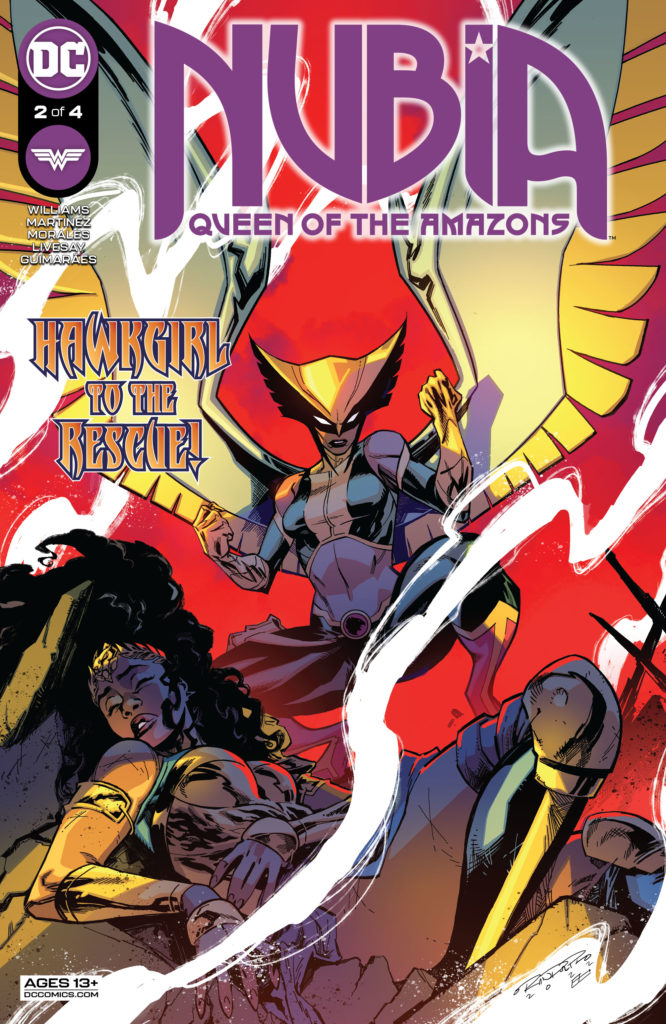 Nubia: Queen of the Amazons #2
DC Comics
Written by Stephanie Williams
Art by Alitha Martinez
Inks by Mark Morales and John Livesay
Colors by Alex Guimarães
Letters by Becca Carey

The Rundown: After an injured Nubia dreams of her past life, she and her companions must face a deadly threat.
The story opens with Hawkgirl and the Amazonian international representatives determining the next course of action for a hospitalized and unconscious Nubia. Later, Yara and members of the Esquecida arrive at the hospital after Nubia awakens. The group then discuss Nubia's amulet and Hawkgirl reveals something interesting. Soon, an attack outside the hospital occurs. When the Amazons and Hawkgirl fight against the threat they are met by someone unexpected. In the distant past, more of Zahavah's history is revealed as she has interactions with both her parents and Azariah.

The Story: Williams deep dive into Nubia's previous life is emotional and meaningful. While I was moved by the heartfelt conversations that gave a glimpse into her familial structure, I was particularly struck by how her past defines her present. All her previous actions have led to the moment of her coronation and subsequent duties as queen. I appreciate how the amulet provides a mysterious window into her origins, and I would be remiss if I did not mention that Sekhmet is an Egyptian goddess, as opposed to the Greek goddesses typically associated with the Amazons. I also think it's worth noting that Diana's association is with Aries, the God of War, as opposed to Nubia's relationship with a warrior goddess also known for healing abilities. It will be interesting to see how these god/goddess figures will play into the future of the new Queen of the Amazons.

The Art: This issue uses traditional design and a changing color scheme to visualize this moving and action-filled narrative. As with previous Nubia series, the illustration emphasizes a multitude of ethnicities as it highlights the diversity of the characters. I am especially impressed by the care that is taken with various hairstyling. As a black woman viewing these panels, I feel seen, and I hope that feeling is shared by other women and girls that don't often see themselves in print in a positive and appealing light.