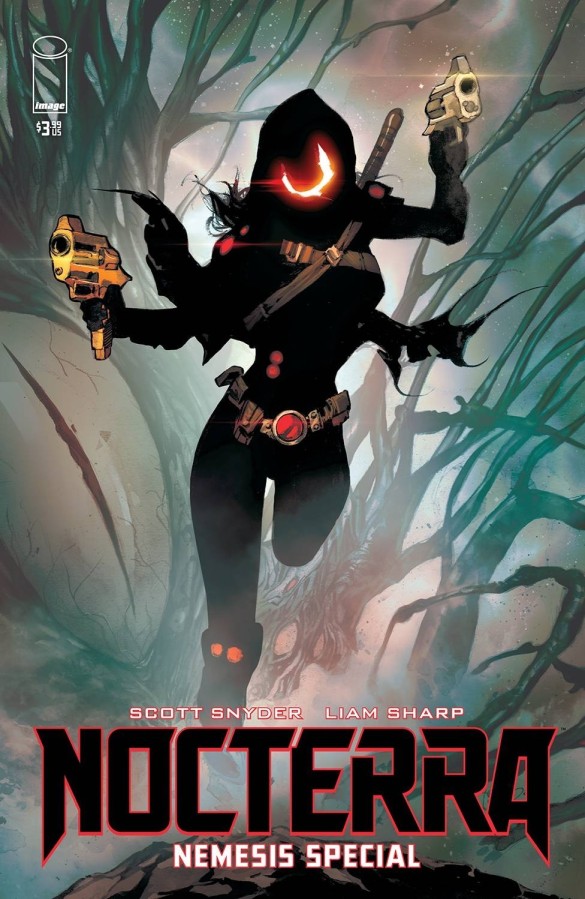 Nocterra Nemesis Special #1
Image Comics
Written by Scott Snyder and Tony S. Daniel
Art by Liam Sharp
Colors by Liam Sharp
Letters by Andworld Design
The Rundown: Emory has an internal battle with Bill as the others attempt to stop Nox.
Val is transporting Emory to the secret Argus location. At the same time, Emory is battling an invasion in his mind from Bill who is trying to not only show Emory that there is no hope in their mission, but also discover the location from Nox. After showing him dark visions of the universe, Emory is thrust into nightmare scenarios from his past.
As they continue to race to Argus, the survivors prepare to turn on the device that could potentially stop Nox. As the cosmic entity reveals itself and Emory and Val reach their destination, they soon discover that it might already be too late.
The Story: Snyder and Daniel do one of the things that Snyder does best in this issue. The story is filled with great tension and emotion and all of the events are centered on the personal journey of Emory and how he has to overcome the ghosts of his past. As the story rises in both action and stakes, the possibility of victory is challenged at the last moment by an act that calls everything into question and could lead to possible defeat. A great standalone issue that delivers on everything including its emotion and stakes.
The Art: Sharp delivers some highly detailed and brilliantly composed art throughout the issue. The visual style works beautifully with the story.