Nocterra #16
Image Comics
Written by Scott Snyder
Art by Tony S. Daniel
Colors by Marcelo Maiolo
Letters by Andworld Design
The Rundown: Emory and the rest of Sundog make a final stand against Nox.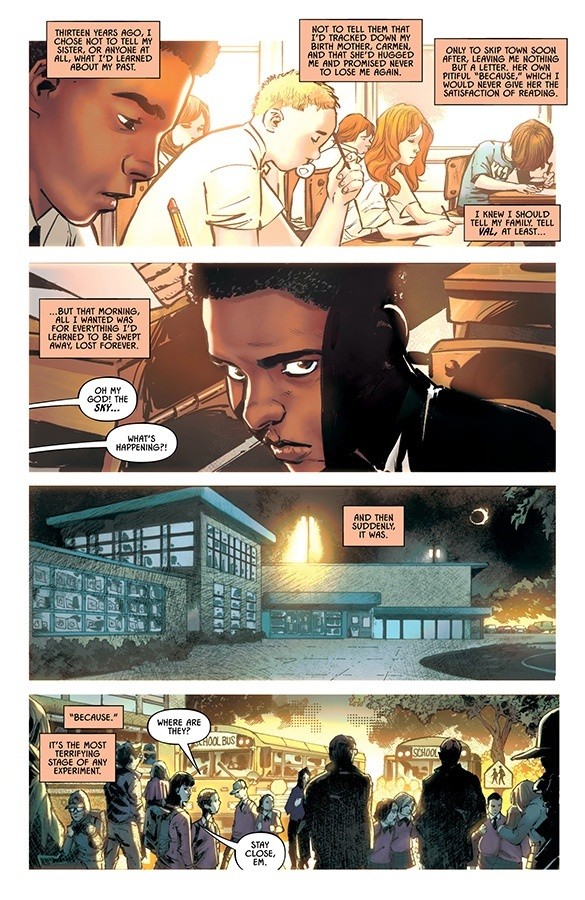 The story begins with Emory reliving the darkest moment of his life in the past both figuratively and literally. Unfortunately, his present is about to get a lot darker after Bill destroys their chance of driving back Nox and both Emory and Val find themselves surrounded by shades.
With all hope seeming lost, the other convoys barrel in to help Sundog as the rest of the team attempts to release the power of Lux and drive back the darkness. With Bill still on the loose, things get more dangerous as he attempts to stop their plan and Emory through his dark memories.
The Story: An exciting, action-packed and thrilling conclusion to this story from Snyder. Snyder has done a fantastic job of world building and character creation in this series and those things create an environment where the reader feels connected to the characters and their circumstances. You find yourself caring about this world and what the characters are trying to accomplish which is what makes the issue and its conclusion all the more satisfying.
The Art: Tony S. Daniel delivers brilliantly detailed and beautifully designed action throughout this issue. The stakes are huge in the issue and the art brings those stakes to glorious life on the page.