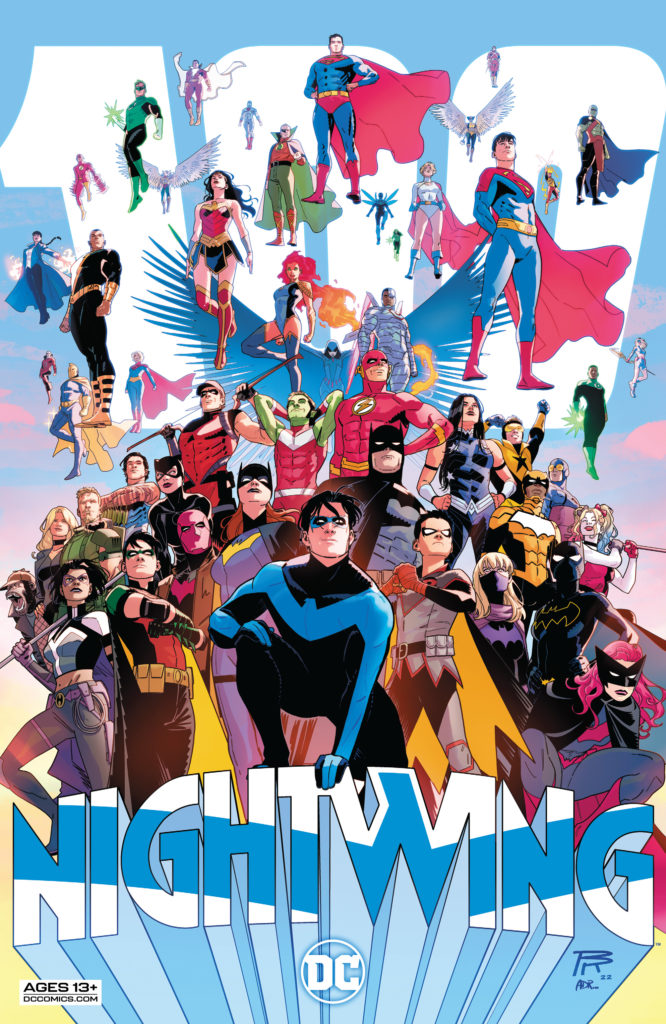 Nightwing #100
DC Comics
Written by Tom Taylor
Art by Bruno Redondo, Scott McDaniel, Rick Leonardi, Eddy Barrows, Javier Fernandez, and Mikel Janín
Inks by Karl Story, Eber Ferrieira, Caio Filipe, Joe Prado, and Rick Leonardi
Colors by Adriano Lucas
Letters by Wes Abbott

The Rundown: Chaos ensues as Heartless releases the inmates from Blüdhaven Prison. Nightwing embarks on a bold new plan for himself and those he loves.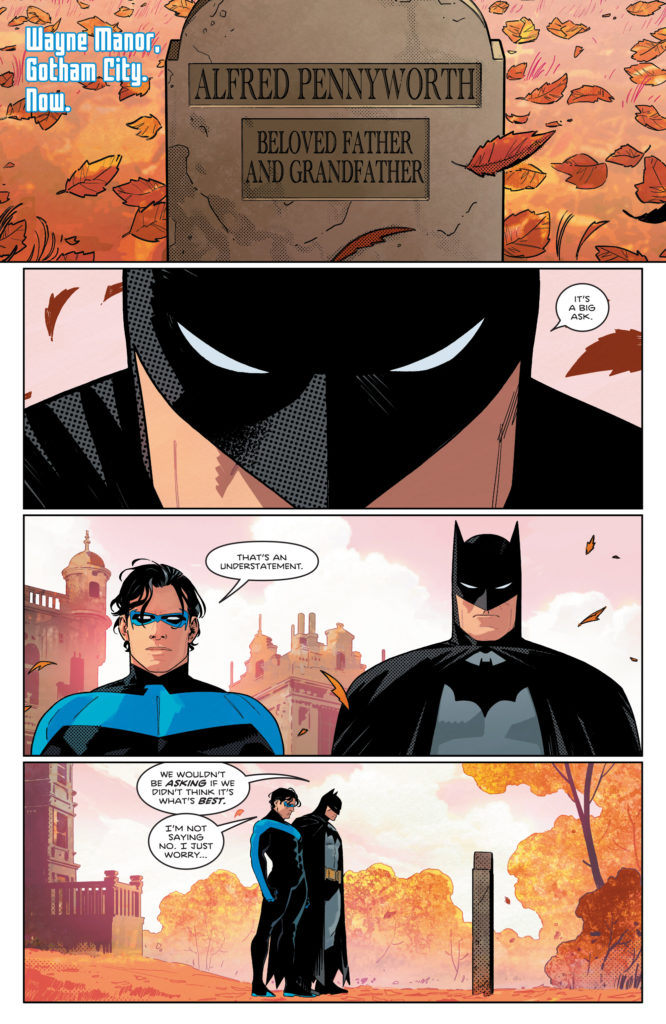 The story begins in the present where Batman and Nightwing visit the grave of a dear friend. Then the scene shifts. Weeks ago, Heartless and his crew infiltrate the Blüdhaven Private Prison and makes a terrifying announcement. In the tumultuous aftermath, Nightwing has Oracle implement Operation Power Shift before "leaping" into the fray. He then gives his masked opponents a choice after expressing his view of the current events. Soon, the Titans arrive to offer their assistance.

Afterwards, the heroes disperse throughout Blüdhaven while Nightwing goes in search of Heartless. Then, as Heartless has a discussion with Tony Zucco, Nightwing engages in battle with an old enemy. Following this, a desperate situation ends. Later, after Nightwing reads a cryptic message from a villain, members of the Justice League arrive with a special request.

Back in the present, Batman and Nightwing have a heartfelt conversation in Gotham. The next day, in Blüdhaven, Nightwing gathers the three most important women in his life to reveal a major project and ask for their assistance. Finally, one month later, Nightwing makes a bold and surprising announcement to the city of Blüdhaven and the world.

The Story: The 100th issue of this dynamic series is utterly sublime. Tom Taylor has gifted fans with a phenomenal chapter that is filled with everything that makes Nightwing a beloved character. Taylor's approach to this event perfect. It not only serves as the explosive ending of an impactful story arc, but ushers in a new era for both Nightwing and the greater DC Universe. I found the combination of high-octane action sequences and profound storytelling pleasing. There was never a dull moment, which is rare for an issue that is jam packed with content.

As always, Dick Grayson's love of community takes the forefront. From his interactions with friends and family to his views on the private prison industry, everything this hero does is to bring out the best in people. So, it comes as no surprise when a new phase of development for Nightwing is offered. However, his personal twist on an effort to aide both Blüdhaven and the wider world is as shocking as it is exciting. I am already invested in this new narrative and can't wait to find out how Nightwing's continuing story will unfold.

The Art: What a beautiful issue! I was especially impressed with the initial "leap" scenes detailing the numerous variations of Nightwing. The action scenes are numerous, well designed, and high-octane. The attention to detail shown in both background and foreground make for an immersive experience. The time and care taken to craft the illustration is both noted and appreciated. The large artistic team involved absolutely delivered.